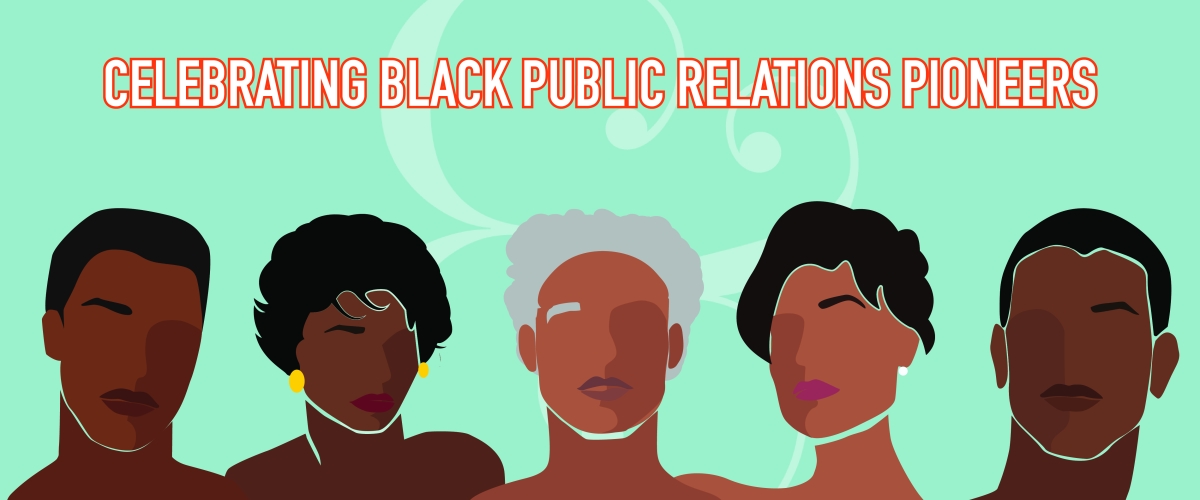 Celebrating Black public relations pioneers
Feb 25, 2022
Black History Month is interwoven through every industry. Today, we're celebrating just a few of the Black public relations practitioners whose contributions shaped our profession — and continue to do so today. Through innovation and dedication, these pioneers broke barriers impacting public relations, entrepreneurship and Black history. 
To read and learn more, visit the Museum of Public Relations' page on Black PR pioneers. 
Joseph Varney Baker 
In 1934, Joseph V. Baker founded the first Black-owned public relations firm in the United States, based in New York City. The firm's PR, marketing and advertising work focused on African American audiences, introducing corporations to Black consumer markets. Baker's work helped many Black professionals build careers in advertising, marketing and public relations, a legacy that impacts our industry today.
Inez Y. Kaiser
Inez Kaiser was the first Black woman to own a PR firm in the U.S., breaking racial and gender barriers throughout her career. Founded in 1957 in Kansas City, Inez Kaiser & Associates gained national recognition for its work. Continuing to set new precedents, she became the first Black woman to join PRSA. She founded Del Sprites, which helped disadvantaged Black high school girls pursue higher education. Throughout her career, Kaiser pushed for Black women to have a seat at the table.
Jesse J. Lewis Sr.
For nearly 70 years, Jesse J. Lewis Sr. has worked to redefine marketing, communications and political problem-solving. In the 1950s, Lewis started one of the first African-American-owned PR firms in the country, based in Alabama, working to change media portrayals of African Americans. The lasting impacts of Lewis' work go beyond public relations and marketing. He served on the Alabama governor's cabinet and founded the Birmingham Times newspaper, a platform for change for Birmingham's Black community. 
Patricia Tobin
In 1983, Patricia Tobin founded Tobin and Associates in Los Angeles, one of the most prominent Black-woman-owned PR firms in the country. Her unique brand of public relations was dedicated to building relationships within the community. In 1987, Tobin co-founded the National Black Public Relations Society, an advocacy group for Black professionals in public relations. Today, NBPRS remains dedicated to providing peer-to-peer support, mentorship and networking to Black PR practitioners. 
Moss Kendrix
Through his firm's work with the Coca-Cola company in the 1950s through the 1970s, Moss Kendrix redefined portrayals of Black Americans in marketing and advertising campaigns. He pushed his clients to employ Black practitioners and implement diversity and inclusion practices. Dedicated to professional development, Kendrix encouraged Black students to pursue careers in PR.