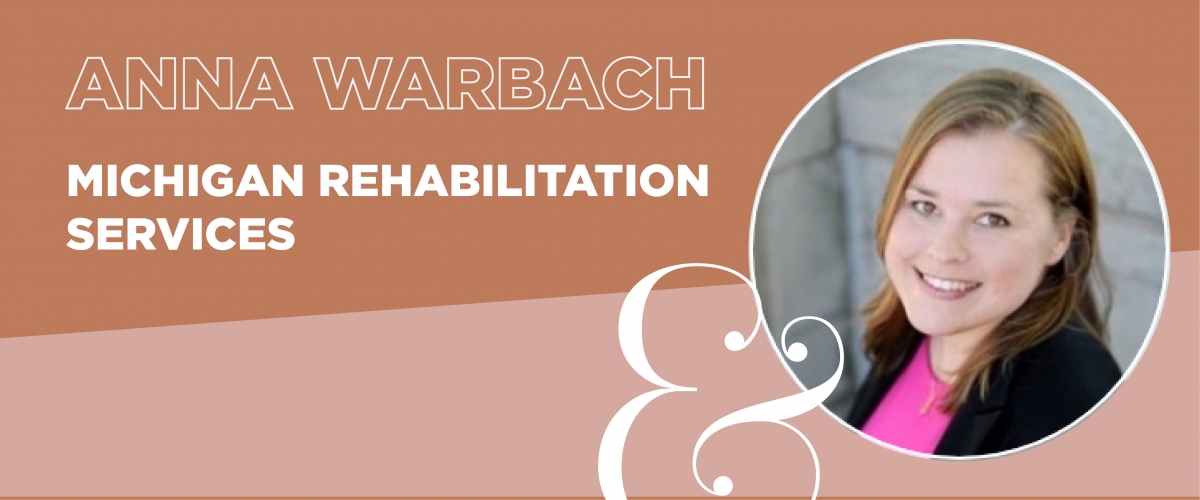 Disability awareness in the workplace benefits everyone
Oct 12, 2021
Category: What's new
Michigan Rehabilitation Services (MRS) is the bureau within the Michigan Department of Labor and Economic Opportunity's Office of Employment and Training. MRS works to improve the lives of Michiganders with disabilities through employment. MRS serves a dual customer — people with disabilities and businesses that are building their diversity, equity and inclusion initiatives.
MRS has two sides to its "house." In the district offices statewide, counselors assist Michiganders in removing disability-related barriers to obtaining or maintaining employment. The Business Network Division offers a wide array of services to businesses with Business Relations Consultants providing solutions to business' needs as they relate to disability awareness training, reasonable accommodations and talent recruitment (to name a few). Occupational therapists (OTs) are also available for trainings on topics related to ergonomics and workplace safety; they also complete worksite evaluations and consult with people on accommodations they may need for success at work.
In 2020, 17.9% of people with a disability were employed, down from 19.3% in 2019, according to a U.S. Bureau of Labor Statistics report issued in February. For those without a disability, 61.8% were employed in 2020, down from 66.3% in the prior year. The report found that unemployment rates for people with and without a disability each increased from 2019 to 2020, to 12.6% and 7.9%, respectively.
But did you know people with disabilities remain disproportionately unemployed as compared to those without disabilities? Why does that matter?
People with disabilities can bring a unique perspective to your workforce. They overcome physical and mental challenges as they move through their daily lives. It's really about finding out what a person's strengths are and bringing those out with the help of an accommodation.
You're probably thinking an accommodation is going to cost your business a fortune. According to the Job Accommodation Network, almost half of all accommodations cost nothing, with the remainder typically costing an average of only $500. An accommodation could be a simple schedule adjustment so a person with diabetes can manage their glucose level. Or, a person with a cognitive impairment may need a reminder checklist to complete the necessary tasks during their scheduled shift.
In 2018, I had an experience that taught me firsthand what it's like to have limitations placed on my daily life. I have reactive hypoglycemia. This means my blood sugar can drop to unsafe levels if I don't pay attention to my food intake and activity levels. I can tell my sugar is getting low when I begin to feel shaky and sometimes lightheaded. 
One beautiful spring day, my coworker and I were taking a walk on our afternoon break. I started to feel a bit lightheaded, so we headed back to the office so I could drink some juice to start feeling better. Unfortunately, it was too late. A few minutes after arriving at my office, my coworkers were moving me to the floor and calling an ambulance. My blood sugar had dropped so low that I was having a seizure. When I regained consciousness a few minutes later, the paramedics were wheeling me into an ambulance. 
At the hospital, the ER doctor informed me the seizure had to be reported to the Secretary of State's office. My driving privileges were suspended for six months. I lived alone and in a rural community, so it would take me two hours and two public transportation systems to get to and from work. If I were to take an Uber, it would cost $20 each way! How was I going to manage?  
Fortunately, I had awesome coworkers and family who drove me to and from work and to the slew of follow-up doctor appointments during that time. I was also fortunate to have a job that offered the flexibility during the workday to check my blood glucose levels. I kept snacks and juice in my office to keep it on an even keel. 
But, having to be so dependent on others was difficult. I couldn't just drive to the store if I ran out of milk. I had to be very intentional and plan my activities ahead of time, not to mention the anxiety and effort to be sure it didn't happen again. My driving privileges would be suspended for a year if I had another seizure! 
This experience helped me relate to the people with disabilities I worked with who had to rely on community and family support to get through their day-to-day activities. Three and a half years later, I keep juice and a glucose monitor in my purse. I work at home now, so the kitchen is only a few steps from my office. But I also have made it a habit to be sure I eat the right foods so I don't have to prick my finger to test my glucose level throughout the day.
It's situations such as this is where MRS can help current or potential employees, working with job seekers and employees to identify their skills, abilities, interests, resources and capabilities — along with the accommodations needed — to assist them in obtaining or maintaining employment. And on the business side, consultants, OTs and rehabilitation specialists are helping businesses identify their needs and develop solutions to assist them in meeting their employment goals.
So, how does one get involved with MRS? Easily, as MRS offices are located throughout the state. Your local office can be found a few different ways:
Visit www.michigan.gov/mrs and check out the "contact us" box at the bottom of the page.

Call the MRS customer assistance telephone number at 517-241-5324 or 800-605-6722.

Send an email to MRS-CustomerAssistance@michigan.gov.
October is National Disability Employment Awareness Month. Information and resources may be found here.
Anna Warbach is the MRS Business Relations Consultant for Prosperity Region 7 which includes Clinton, Eaton and Ingham counties. She can be reached at 517-599-0514 or WarbachA@michigan.gov.