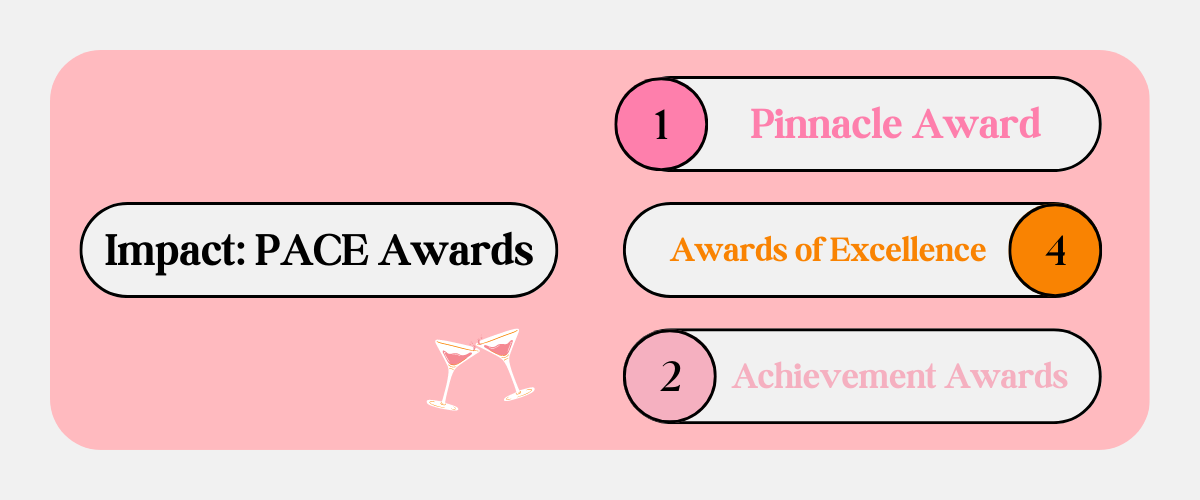 Honoring Impact: Reflections on our 2023 PACE Awards journey
May 19, 2023
Category: What's new
It's that time of year again! Amid the hustle and bustle of summer's arrival, last month, P&G was recognized at the annual PACE Awards. And while we don't like to make a fuss, we can't miss an opportunity to celebrate the people behind the impactful work we do. 
The Central Michigan Public Relations Society of America's PACE Awards honor the exceptional efforts of public relations practitioners, teams and organizations tackling contemporary issues with unmatched professionalism, creativity and resourcefulness. We must give credit where credit is due, and our heartfelt appreciation goes to the CMPRSA leadership.
This year we were honored to earn seven PACE awards. In the campaign and tactic categories, we received one Pinnacle-level PACE Award — the highest designation — four PACE Awards of Excellence and two PACE Awards of Achievement. P&G was recognized for the following work:
Pinnacle Award
Public Affairs Campaign: Inspiring thousands to act on the proposed change to the Wagner-Peyser Act through a powerful tool — the democratic process. Michigan Works! Association 
Awards of Excellence 
Achievement Awards
Special Events: The Career Development Conference inspires and connects Michigan's youth to achieve a future beyond their imagination. Youth Solutions 
Social Marketing Campaign: Raising Awareness of Adverse Childhood Experiences: A Visual, Data-Driven Social Campaign. Center for Strategic Health Partnerships
Awards are not the be-all, end-all of our work. However, it's icing on the cake when those awards recognize the remarkable efforts of our clients and our communities. Like our clients, our team is committed to continuous growth and improvement. We're taking steps in the right direction and although we appreciate the celebration of our work, there is still substantial impact to be made. We sincerely appreciate the opportunity to commemorate our achievements with our community.