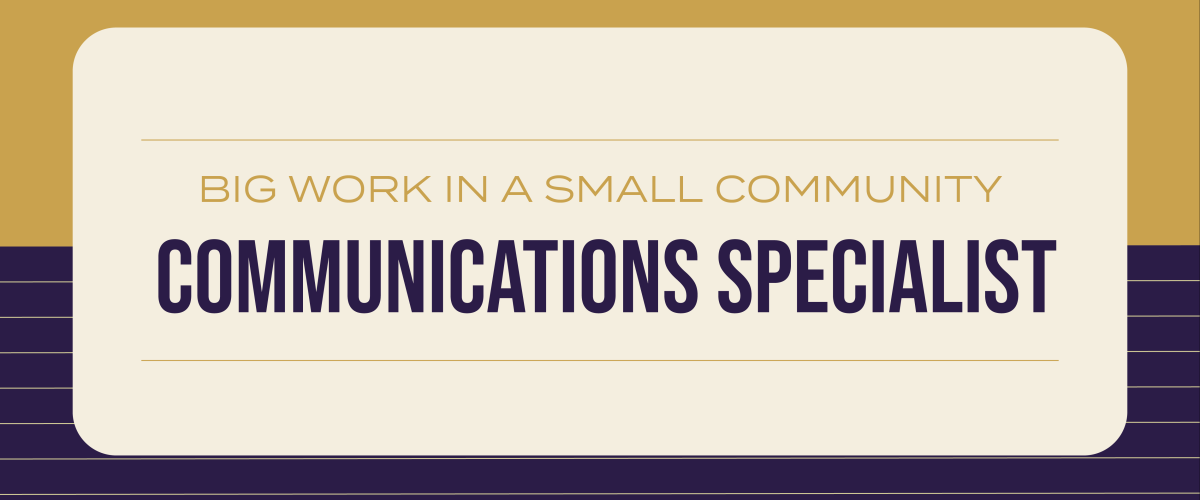 Join our team as a Communications Specialist
Sep 23, 2022
Category: What's new
Piper & Gold Public Relations is looking for a passionate and motivated individual with excellent project and account management skills to serve as a Communications Specialist. In addition, this individual should also be an experienced writer, problem-solver and storyteller. 
P&G is comprised of a diverse team of public relations professionals that specialize in niche areas. This position will work across many client teams to provide strategic communications counsel, direction and oversight for deliverables.
All P&G team members are actively involved in managing client accounts and projects. Project management is a core component of working in our agency and critical to this position's success. Additionally, this position provides strategic communications counsel, direction and oversight for communication deliverables.
COMMUNICATIONS SPECIALIST 
Knowledge, Skills, and Abilities
Bachelor's degree in public relations, marketing, or a related field required.
Prior agency experience is highly encouraged.

Individuals with previous experience as an account executive, account manager, project manager, traffic manager or advertising coordinator will likely have the skills for success in this position.

A proven track record of using traditional and emerging communication tools and technologies.
The ability to lead communication projects and take deliverables from ideation to completion.
Ability to take care of business without someone looking over your shoulder.
A commitment to high quality work.
Outstanding attention to detail.
Impressive emotional intelligence and interpersonal expertise.
An action-oriented approach.
Capable of juggling multiple projects (actual juggling not required).
Duties and Responsibilities
Strategic Communication Execution (50%)
Provide clients with strategic communication counsel.
Superlative communication skills in all forms; ability to communicate clearly to diverse audiences across many formats
Develop strategic client materials, including communication plans, strategies and audits.
Oversee and execute communication tactics, including articles, social media content, key messages and other materials designed to help reach client goals.
Identify and pursue storytelling opportunities for clients, including blogs, podcasts, thought leadership, contributed content and other unique visibility opportunities.
Develop reports and results to support communication initiatives.
Develop and manage social media campaigns and concepts aimed at helping clients to reach their strategic goals.
Client and Project Management (30%)
Plan, oversee and document all aspects of client projects.
Set, manage and report on budget priorities for projects using our project management system, Teamwork.
Map out timelines and tasks for projects and deliverables.
Monitor and develop solutions for project delays, scope creep, budget concerns and other typical project management problems.
Work with the P&G and client teams to execute client goals.
Provide strategic assessment and frequent review of clients' needs and wants.
Set clear priorities and timelines for client projects and tactics.
Build relationships with existing and new clients.
Collaborate with client accounts to effectively integrate diversity, equity and inclusion through communications strategies to support systematic change.
Assist clients in prioritizing and setting the direction of communications efforts on a monthly or project basis.
Champion new, creative ideas through well-structured, well-supported, and clearly articulated points of view.
Work with graphic designers on high-impact, strategic visual materials.
Internal Engagement and Initiatives (15%)
Lead internal communication projects or processes and recommend agency-wide professional development and software tools.
Participate in staff meetings, brainstorming and team building activities.
Demonstrate commitment to valuing diversity and contributing to an inclusive working and learning environment.
Support company brand awareness initiatives.
Consult on and create draft proposals when necessary.
Professional Development (5%)
Attend networking events and professional development activities (virtual until in-person is safe).
Identify and seek out professional growth opportunities.
Compensation
We are looking for an individual with 1-3 years of experience in communications ideally but are open to more experience for the right candidate. We offer a competitive salary based on experience. We believe in financial transparency, so here's a ballpark of what you can expect based on where you are in your career:
New grads: Starting salary of $40,000+.
1-3 years post-graduation experience: Starting salary of $45,000+ with flexibility based on agency experience and skills.
3-5+ years agency experience: Starting salary of $50,000+ with an expectation of stellar project management skills, and agency or similar experience.
For all levels, please include your salary requirements.
On top of salary, additional benefits include:
Unlimited out-of-office time (based on average three weeks per employee, $3,000 benefit). 
Paid holiday time (about $4,500 benefit, often includes week of July 4, two weeks at end of December).
Employer-sponsored health insurance package, including medical, vision and dental ($2,500-$5,000 benefit depending on insured(s)).
Employer retirement contributions (3% IRA match).
Tuition assistance (up to $5,250 annual contribution).
Flextime.
Sick time.
12 weeks of parental leave paid at 100% of salary.
Remote/hybrid work environment.
Piper & Gold is located in Lansing, Michigan's REO Town. We strive to provide a flexible work environment and this position has been designated as remote-friendly. Remote-friendly means some or all of the duties can be performed remotely as mutually agreed upon. Because many of our clients are Michigan-based, preference will go to individuals looking for a hybrid work environment, who reside in the state of Michigan. However, we will consider a permanent remote work arrangement for the right candidate.
COVID-19 Considerations:
As the COVID-19 pandemic continues to impact the world, it's our responsibility to keep our employees and clients healthy and safe. At Piper & Gold, we adhere to CDC, state, and local orders regarding COVID-19. We are a COVID-cautious employer and require proof of vaccination within 30 days of hire.
About our environment
Piper & Gold is committed to creating an inclusive work environment and is proud to be an equal-opportunity employer. P&G recruits, employs, trains, compensates and promotes without regard to race, color, religion, gender, gender identity or expression, sexual orientation, national origin, genetics, disability, age, or veteran status. We are fully focused on equality and believe deeply in diversity and every fascinating characteristic that makes us different.
Piper & Gold is an award-winning, small-by-choice, Michigan-based female-owned business that works with government agencies, nonprofits and businesses to make an impact through communications. We serve our clients and communities – geographic, passion-driven and other – with smart, efficient and strategic solutions to communications challenges and opportunities. We believe in a 40-hour work week and strive to create an environment where we care about our coworkers and clients, minimize frustrations and do great work. Learn more about us and what we stand for at www.piperandgold.com/what-we-say.
COMMUNICATIONS SPECIALIST
To apply for the Communications Specialist position, email your resume, cover letter and salary requirements to shannon@piperandgold.com with the job title in the email subject line.
The initial review of applications will begin on October 13. Applications submitted after will be reviewed on a rolling basis.