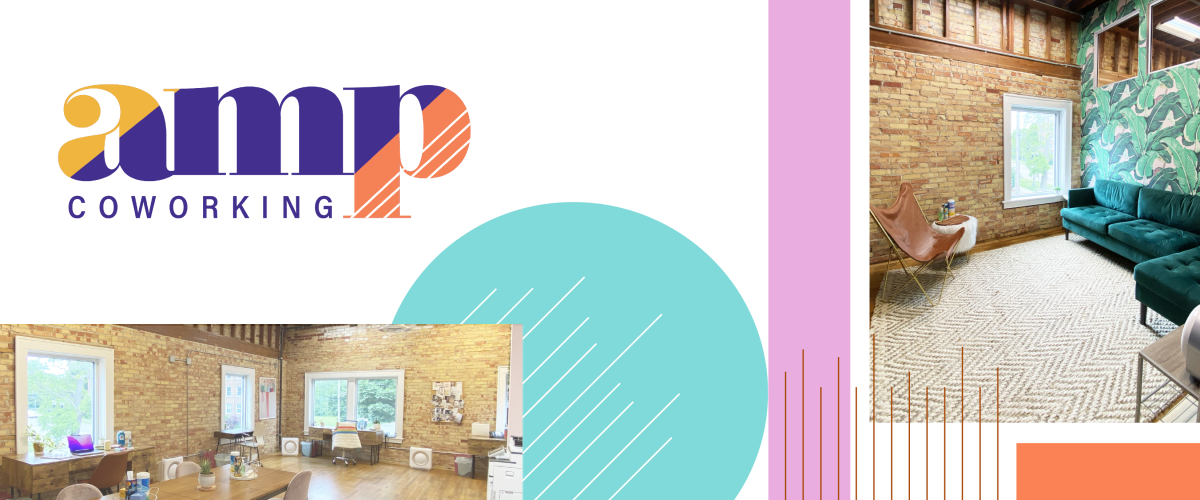 Meet Amp Coworking: Applications opening May 23, 2022
Mar 15, 2023
Category: What's new
Supporting the Lansing community is at the top of Piper & Gold's priority list. We focus on impact-driven work not only through the communications work we do for our social justice-focused clients, but through our clients and volunteer service in the Lansing community. 
One need we saw? Supporting underrepresented business owners and remote workers in our community.
Meet Amp Coworking.
Our team at Piper & Gold has worked for almost a year to create a space dedicated to bringing together entrepreneurs and remote workers looking for an accepting, open, and respectful workplace. In taking real action to support people, we wanted to build the Lansing community a tangible place to drive it further toward a more just, equitable direction. And it's finally time. Applications for Amp Coworking open May 23, 2023. Act now! You can be the first to know when Amp Coworking applications open. Sign up for our waiting list to learn about our latest updates: https://bit.ly/amp-coworking change to Act now! The Amp Coworking Waiting List have first access to applications. Coworking memberships will begin July 1, with some prorated June membership available if needed! Sign up for the waiting list here: https://bit.ly/amp-coworking
We're thinking of Amp Coworking as an inclusive coworking space. 
That means the space accounts for the needs of underrepresented entrepreneurs and remote workers facing disparities in the workplace. You know the list, but we've done our best to include as many of those impacted as possible: People of color, womxn, LGBTQ+ people, persons with cognitive or physical disabilities, veterans, low-income individuals, refugees and immigrants, members of ethnic minority groups, formerly incarcerated people, people with discriminated against body types and sizes, and those whose mental health, neurodivergence, sensory sensitivities and invisible illnesses/disabilities can make public spaces a challenge. 
Amp was created as a physical space and a place for those with shared values to learn and grow. All those committed to Diversity, Equity, Inclusion and Accessibility learning, and creating inclusive workspaces, are welcome at Amp Coworking. 
Ready for the Amp Coworking commercial? <imagine the following in your favorite announcer voice>
In our space, you will be presented with a wide range of amenities to support your needs. We have a kitchenette, all the coffee and tea, printing and scanning, storage space, a private restroom, and more. Our convenient location is close to scooter pickup locations, has direct access to Lansing's River Trail, and is walking distance from Cooley Gardens, Scott Sunken Garden and multiple parks. We also share a building with LEAP, the Lansing Economic Area Partnership, providing a seamless connection to additional entrepreneurial support. 
But wait, it doesn't stop there! At Amp Coworking, you will get access to and notification of grants, resources, tools and information for underrepresented entrepreneurs and remote workers facing disparities. There will also be free-for-members workshops focused on inclusive communications, equitable entrepreneurship, and other values-aligned and requested topics, with workshops led by a national pool of DEI&A and other experts.
Act now! You can be the first to know when Amp Coworking applications open. Sign up for our waiting list to learn about our latest updates: https://bit.ly/amp-coworking
Ok, set aside the fun infomercial vibe and let us get authentic here: 
Amp Coworking puts equity at the forefront for our members and aims to help underrepresented entrepreneurs thrive, and remote workers to learn lessons they can share in their current or future workplaces. The Piper & Gold team behind Amp is 100% within the underrepresented groups it's meant to support. We all need community, and underrepresented people need a community of people who get what it's like to still face unjust discrimination, bias, disrespect and exclusion on a daily basis. We live it, and we've studied it, so we wanted to create a space for those with shared experiences to work alongside those who share the same values and want to learn and grow. We value growth and know the concept of inclusive coworking will never stop evolving and changing, and we welcome you on that journey with us.
Amp Coworking individual membership is $300 per month for all membership benefits. To support in making the space socioeconomically inclusive, those who meet the ALICE Threshold (or Asset Limited, Income Constrained, Employed representing households whose income is above the Federal Poverty Limit, but below the basic cost of living) qualify for membership at $150 per month. You can learn more about ALICE here.