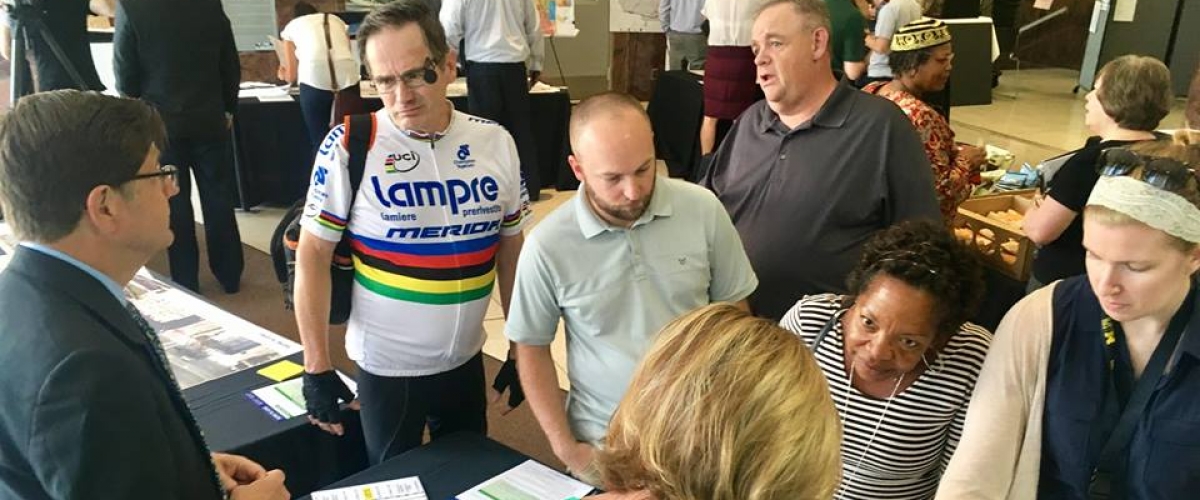 Public feedback. Community engagement. Resident forums. These can be intimidating and a bit of a tough pill for municipalities to swallow. And, if done without a lot of planning or support from partners, they can also have lasting negative implications. But they're crucial. Listening to stakeholders is what propels communities forward and it's our job at P&G to help guide our clients through these particularly challenging waters.
We get the chance to chat with the public a lot (hello, public relations), not only for and through our clients, but in some of the service opportunities we've built into our culture as well. For example, I personally serve as chair of the Lansing Park Board. And, as you can imagine, public feedback is a major component of our charge. It's a visceral experience to be part of the process where someone's voice being heard leads to action. Connections are made in those moments, and lead to progress in the moments that follow. It's a pretty awesome thing, and a responsibility I take pretty seriously.
From the client side, public feedback forums are kinda our thing. We love the ins and outs of the event planning side of things, as well helping foster authentic conversations. Sometimes tough conversations.
In 2014, we helped launch Neighbors Guiding Neighborhoods, a campaign of the Ingham County Treasurer aimed at creating a space for conversation, as well as educating residents on the dangers of land contracts and the resources available to those facing foreclosure. It is sobering to work alongside folks who are at risk for losing their homes, but it is important work. Preventing even one tax foreclosure through listening and offering information makes it worth it. The feedback and connections made in 2013 inspired another series of forums in 2016. The Treasurer's Office continues to see a decline in tax foreclosures and has made a real impact in neighborhoods.
More recently, you've likely heard of Shaping the Avenue, a multi-jurisdictional partnership between the municipalities of East Lansing, City of Lansing, Lansing Township, Meridian Township and the Capital Area Transportation Authority. We're helping manage communications and community feedback in this massive effort to update and coordinate land use and zoning ordinances along the Michigan and Grand River Avenues corridor. Super cool.
Through the initiative, with public events kicking off last month, we're partnering with the City of East Lansing, City of Lansing, Lansing Township and Meridian Township to host a series of community gatherings and feedback sessions to help business owners, developers and residents turn the conversation from the Capitol Corridor project into action and, ultimately, form-based code to shape the avenue for years to come. Even cooler.
This is all to say, it is 100 percent worth the anxiety and plunge to engage with your stakeholders. Ready to jump?