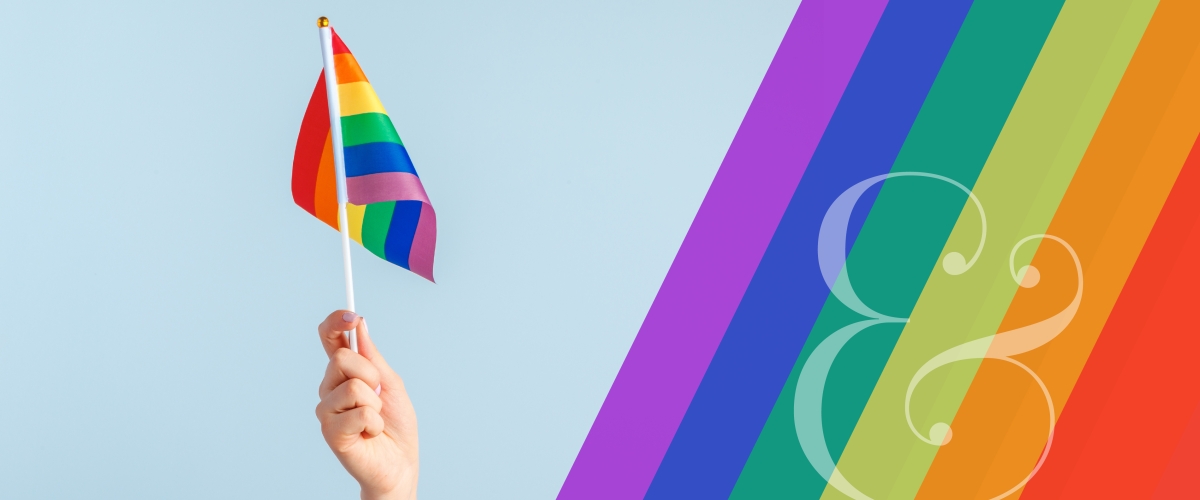 Rainbow capitalism is not progressive or allyship
Jun 4, 2021
Category: P&G culture
Pride Month — a time to spotlight LGTBQ+ history, celebrate queer experiences and embrace community. But in recent years, June has become a time when corporations add rainbows to their social media profiles and release limited-edition Pride merchandise, many without taking action to back up their "allyship."
For the LGBTQ+ community, Pride Month is more than splashing "Love Wins" across T-shirts and rainbow social media icons. Pride started as a commemoration of the Stonewall riots, an uprising against police brutality and abuse of power. At the Stonewall Inn, a gay tavern in Manhattan's Greenwich Village, the LGBTQ+ community — namely trans and queer women of color, including Stormé DeLarverie, Marsha P. Johnson, Sylvia Rivera and many others — rebelled against institutions that dehumanized their existence. 
Pride is a political act, disrupting cisheteronormativity and honoring those who unapologetically protest systemic oppression.
I'm aware of and acknowledge the privileges I hold as a white, traditionally feminine-presenting queer woman — privileges resulting from the continued work of queer people of color. I owe my identity — and the increasing societal acceptance of that identity — to the Black and brown queer and trans activists who paved the way for LGBTQ+ civil rights. I also acknowledge I can't speak for all queer experiences, and my identity does not absolve me from benefiting from systemic racism, classism and homophobia.
While it's not fair, parts of my identity make it more likely I'll be listened to when I bring up these topics; my identity allows me to amplify these issues, including the topic of rainbow capitalism. 
As Pride becomes increasingly celebrated in mainstream culture, there have been discussions and criticisms within the queer community about the way this month is celebrated. Enter — rainbow capitalism. 
Rainbow capitalism, also called rainbow-washing, homocapitalism and gay capaitalism, is used to define the performative way corporations use LGBTQ+ culture and identity, namely during Pride Month, to increase profits. In other words, corporations create LGBTQ+-centered merchandise because it makes money and appeals to progressive audiences. This trend is marked by nearly every consumer-driven corporation releasing Pride collections, only for any trace of activism to disappear by July 1.
A major critique of the trend is how this corporate rainbow capitalism commodifies facets of queer identity and experiences deemed acceptable and approachable — celebration, positivity, white/thin/wealthy/cisgender gay people, and all the rainbows — without addressing "uncomfortable" topics, such as discrimination, violence, rejection, racism within the LGBTQ+ community, and stigmatization. Pride Month has devolved into a performative way for corporations to achieve good PR and increase profits without actually helping the queer community.
While it has many flaws, the fact that vocal LGBTQ+ support has become profitable is a good sign for society. It signals greater societal acceptance of LGBTQ+ identities and can be a source of representation for young queer people. For an LGBTQ+ child, Target or Walmart Pride collections may be their first glimpse of the community that's out there for them.
But there's an important distinction here: Acceptance is the result of years of activism, not Pride collections. Corporations aren't causing societal acceptance. Companies do this because queer culture is now societally accepted — and seen as profitable. 
Still, just because it's profitable doesn't mean all companies are supporting the LGBTQ+ community behind the social media posts. Rainbow capitalism becomes even more damaging when corporations that celebrate Pride actively harm LGBTQ+ people. 
Gilead, the makers of PrEP (pre-exposure prophylaxis) and a 2021 New York City Pride bronze sponsor, refused to release its patent for PrEP for years. When taken as prescribed, PrEP reduces the risk of getting HIV from sex by about 99%. In the past, PrEP could cost thousands of dollars a month without insurance, and many people in the communities most affected by HIV did not have access to medication. This spring, after numerous legal battles, Gilead's patent expired and generic medications became available. Although Gilead has sponsored numerous Pride celebrations over the years, the company still refused to prioritize queer people's health over profits. 
In 2019, some of the most publicly LGBTQ+-supportive corporations donated nearly $15 million to anti-gay politicians. Spokespeople from these corporations defended this by referencing "inclusive workplaces" and supporting "candidates on both sides of the aisle." Corporations cannot boast LGBTQ+ support while funding candidates who actively vote against LGBTQ+ rights. 
And the list goes on. Companies such as Converse, Target and Disney pledge donations to LGBTQ+ organizations, which is exciting to see. But they don't disclose how much they are donating or what percent of profits go towards these organizations. 
Representation is invaluable, and showing support for the queer community is, of course, important. So how can you show your support and celebrate Pride in an authentic, positive way?
Buy from queer-owned businesses. 
There are so many LGBTQ+-owned and small businesses selling merch to celebrate queer identity year-round. You can show your support for the queer community by buying from these small businesses. Not only do you know exactly where your dollars are going, but many also donate to LGBTQ+ organizations. Plus, I think their merch is usually more authentic — and cuter.  
Donate.
Direct donations to LGBTQ+ organizations will almost always have a stronger impact than a percent of corporate Pride merch sales. If you're able, consider donating. The Trevor Project, the National Black Justice Coalition, Black Trans Femmes in the Arts and Salus Center are a few great options!
Do your research. 
Spend some time researching the company you're buying from. Organizations like the Federal Election Commission and the Center for Political Accountability allow you to search where specific donors and companies donate to. Do they donate to anti-LGBTQ+ politicians? How much are they donating? If it's affordable and accessible for you, try to buy from more ethical companies. If corporate Pride collections are what's in your budget, that's OK too. 
Educate yourself.
There are innumerable resources — queer theory, books, movies, TV shows, social media — you can seek out to learn more. Listen to queer voices. Understand intersectionality. Celebrate experiences different than your own and work to deconstruct your own cisheteronormative or other biases.
Pride Month is far more complex, inspiring and radical than the version of rainbow capitalism we often see. Find ways to celebrate Pride that are authentic to you, whether it's by donating, learning about queer history and LGBTQ+ stories, or taking direct action to support the community. Honor those who fought and continue to fight for LGBTQ+ rights, including if you're an ally. Continue to educate yourself and learn beyond June. And remember that Pride has always been a political act.
Julia Curtis