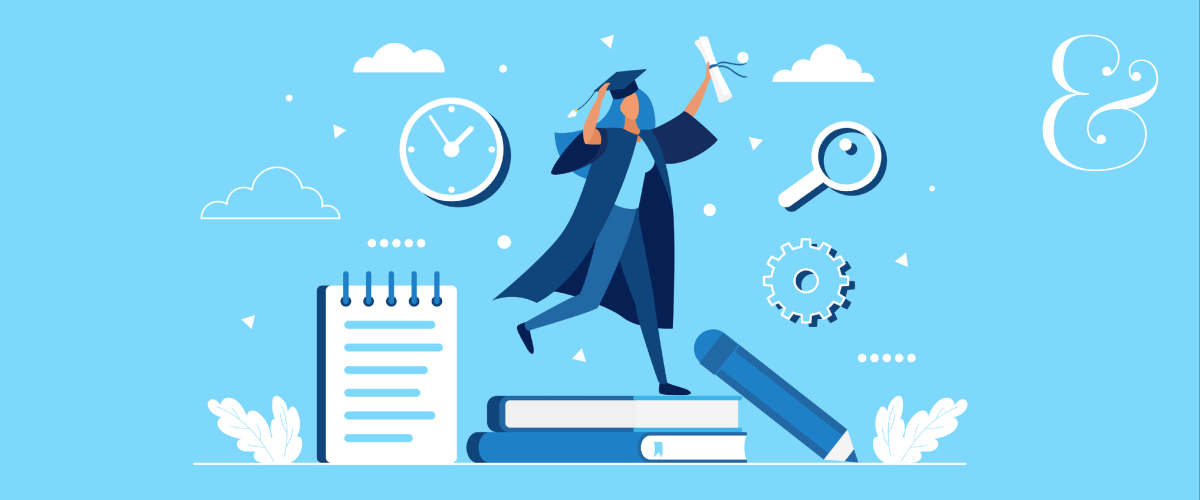 Seasons of change: Lessons I've learned for looking ahead
Jun 8, 2022
Category: What's new
One year ago, I joined Piper & Gold Public Relations as an inexperienced but ambitious college junior, eager to learn the ins and outs of agency life as a student coordinator. As I immediately dove headfirst into client work, I quickly discovered P&G was far from a typical internship experience. I'll never forget tackling the launch of a client's social media channels in one of my first weeks on the job — and accidentally showing their team my Harry Styles desktop screensaver in the process.
My time with P&G has been full of learning and growth, navigating everything from tweet chats to media lists to client events. No day has been the same, and the fast-paced nature of the agency has constantly excited and challenged me. As I celebrate my one-year P&G workiversary and my college graduation (only a day apart from one another!) this spring, I'm preparing to close this chapter of my life and step into a new one full of unknowns.
Being an avid planner, not knowing what's coming next is scary, but my time at P&G has given me a wealth of knowledge I can take on the job hunt, into my first full-time role and beyond. Here are just a few lessons I'm carrying with me during this season of change:
Always, always, always communicate. Whether it's gaining clarification, checking in on a deadline or asking a question you think might be obvious, communication is key. Rather than stress myself out about not knowing what's expected of me, more information is always just a Slack message or a working session away at P&G. The supportive and collaborative nature of the agency has helped me realize the power of proactive communication.
Your ideas are important, so share them. As an intern, you're not always given a seat at the table. At P&G, I've been lucky enough to be invited to every team meeting, countless brainstorming sessions and numerous client calls. Being included in these moments has made me feel trusted and appreciated, giving me the confidence to express my ideas and advocate for myself as an integral member of the team.
Feeling uncomfortable is a good thing. Even though I hate to admit it, I tend to dwell in my comfort zone. Once I find a task I'm good at or a client I enjoy working with, it's easy for me to put my head down and ignore new opportunities coming my way. However, the best growth occurs when I'm willing to learn something new. Whether it's pitching a release to national media or researching educational influencers, P&G has helped me embrace the uncomfortable so I can become a better PR practitioner in the process.
Growth is a process — embrace it. I'm a self-proclaimed perfectionist, so I naturally stepped into my role at P&G expecting to do amazing work immediately. Oh, how wrong I was. After a few months of extensive internal edits and client reviews, I learned if your work is coming back to you with no changes, someone else isn't doing their job. Revisions aren't signs of your weakness, they're multiple minds coming together to create a better finished product.
As I reflect on the past year, I am endlessly grateful for P&G's willingness to take a chance on me, trust in my abilities and give me the confidence to succeed. I feel so lucky to have been able to begin my journey in public relations alongside this team of amazingly talented and supportive people. Thank you for teaching me what it means to enjoy logging onto work each day, finding much-needed pockets of joy and the power of pairing PR with a cause you believe in. There's nothing quite like the experience I've had at P&G, and I'll remember that for the rest of my career.