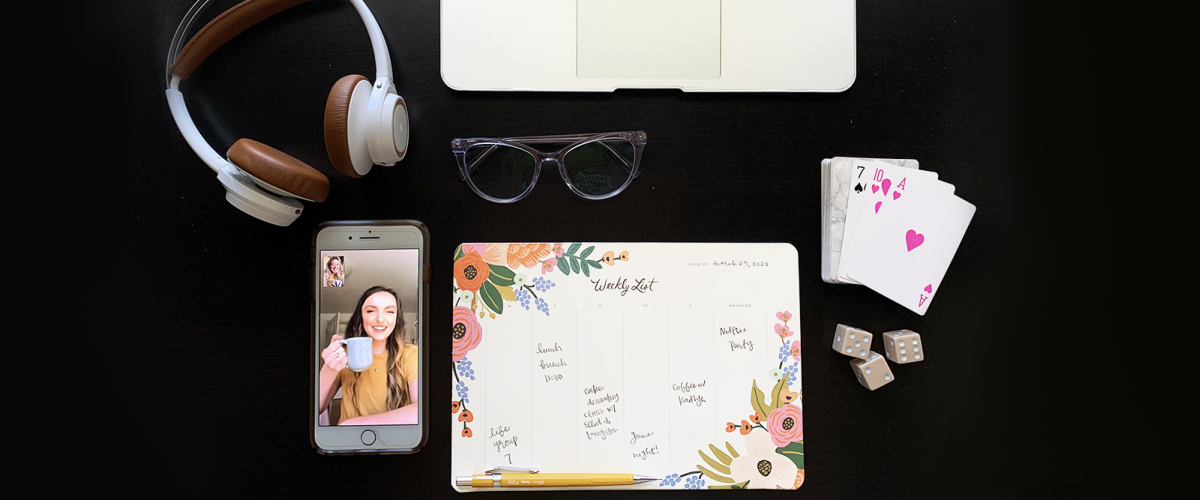 Spreading our (virtual) social butterfly wings: Tools and tips to socially distance
Apr 3, 2020
Category: P&G culture
I've pretty much always been the most social person I know. Seriously. I'm one of those freaks who ranks (at least) 95% extrovert on the Myers-Briggs personality test. So, staying home at all times is kind of my nightmare. I live with my parents and three younger brothers, so it's not like I'm entirely alone, but I really, really miss face-to-face human interaction. 
Rest assured, as hard as it is, this social butterfly is social distancing. It's so incredibly important that we all stay the hell home right now and #flattenthecurve. I'm doing my part, but it's really freaking hard when all I want to do is sit in a buzzing coffee shop to feed off of the energy of everyone around me. Especially on the weekends, the loneliness of not being able to brunch, grab drinks or browse local shops with pals really sets in. 
There's no doubt in my mind that we have to stay connected. In a time when so much of the world is so unknown, we need to lean in to our support systems. So, what do we do? How do we do that when we have to stay home?
I've been doing my best to keep a lot of my same rhythms with people in my life, but just adjusting them. Every Monday night, I have a group of friends that I do a Bible study with. We sit together, share snacks and talk about life for hours. We've moved these weekly hangs to Zoom calls, where things are pretty much the same (besides the fact that we're not eating from the same bowl of chips). This week, we also played Skribbl.io, which is similar to Pictionary, while Zoom-ing. It was hilarious.
Usually, my boyfriend and I spend a decent amount of time on the couch watching movies or TV shows together. Since we can't be in the same space, this week we watched episodes of Tiger King together over FaceTime so we could laugh and yell at everyone on screen together. (Honestly, I was really proud of the fact that we pressed play at the same time on different devices.) Having these "normal" social interactions that are a part of my typical weekly routine still take place helps me to feel less alone and closer to people I love, even when I can't physically be near them.
Here are some other tips from our P&G fam on ways we're staying social while distancing.
Netflix Watch Parties: If you don't want to FaceTime while watching Netflix like I did, Netflix Party is a great way to have a movie night with friends. The Google Chrome plugin synchronizes video playback and adds a group chat to whatever you're watching on Netflix. Kate suggests picking campy awful movies on purpose to Mystery Science Theater it up. Want to watch something on Amazon Prime or HBO instead? Try using TwoSeven. TwoSeven also includes audio and video chats, instead of just a text chat.

Video calls galore: So many different platforms have video chatting features and most of them allow you to video call with an entire group of people. If you haven't explored the options, check out

this article that helps lay out some of the most common ones. I'm personally a big fan of Zoom, WhatsApp and FaceTime. Snapchat video in groups is fun, too, as is Facebook Messenger Group Video Chats!

FaceTime coffee dates: While you may not be able to meet up to drink an oat milk lavender latte in a local shop, you can still have a coffee date with a friend! Schedule a time, then get out your Chemex or french press or whatever you like to use, brew yourself a warm mug of goodness (maybe even using

local beans) and catch up on the ins and outs of your day over FaceTime or another video chat tool. Or, take your coffee and phone to-go, and walk around your neighborhood while chatting.

Virtual game night: There are LITERALLY so many different games you can play with your friends digitally!

Jackbox has a ton of hilarious options, Ticket to Ride is available as a desktop or mobile app and there's an online version of Cards Against Humanity. If you're an iPhone user, iMessage games are the bomb (big Anagrams girl over here). Or, find a way to adapt a game you love! Play Mafia, but over Facebook Messenger, in a Facebook Group (polls for voting who is mafia? Yes, please!) and/or via text. Play Sorry over FaceTime and move each other's pieces on your own boards at home. Get creative!

Take your lunch break with friends: Set up a Zoom room for your friends to call in every day during lunchtime. That way, you not only get to see each other and catch up on how your day is going, but it helps to establish a rhythm while working from home. I try to either Zoom or FaceTime with friends during my lunch every day, and it's really been a fun thing to look forward to! I also take brain breaks via FaceTime with friends when I'm having a hard time focusing on whatever I'm working on. It's helpful to still see some familiar faces during the work day when you don't have your coworkers around.

Learn something together: In addition to sites like

Skillshare, which already provide thousands of videos to help you learn new skills, tons of creatives are offering free online classes. Bluprint is offering unlimited free videos and projects until April 16 and they pretty much have a video for every kind of craft you could ever want to try. Brit + Co. has classes that range from Investing 101 to family photography and modern calligraphy and they're free through April 9 with the code "SELFCARE." (I'm thinking I'm going to have to take the cake decorating class ASAP.) Pick something that looks fun or that you've been wanting to learn, then send it to your friends. Try doing the classes together over FaceTime or starting a group message to compare progress pictures as you go! Basically, it's like Painting with a Twist, but from your own living rooms.
In some ways, this time when we're forced to be physically apart has brought us closer together. I've had video chats over Facebook Messenger with friends I haven't seen in years. I've written letters to people near to my heart that I've been meaning to write for months. Neighbors I've never met offer a wave and smile as they pass by on foot, bike, rollerblades and skateboards.
Hopefully in "the after times," we'll be able to look back on these days as a time when we finally normalized checking in on our friends, calling just to say hi, writing letters and finding every excuse to stay connected. We'll treasure every hand-squeeze from a loved one, every high-five from the neighbor's kid, every "for here" latte and every chatting-at-the-microwave moment during office lunch breaks. 
For now, I'm going to continue to share my life with my corner of the world in any way I can, and I encourage you to do the same. Post what you're doing on social media! Respond to people's Instagram stories! Comment on friends' pictures! Text your grandma and tell her she's on your mind! FaceTime your BFF from summer camp! Have a FitBit step competition with your normal workout buddy! Join in on a virtual dance party and text your friends about it later! Keep reminding your loved ones of how excited you are for the day when you can give them a big hug again! Stay social, my fellow butterflies.
Emma Heikkinen is all about creating in every way possible and her passion for creation reaches into every area of her life — her writing, her editing, her art and her relationships. She fights for those who can't and her fierce compassion fuels all she does.