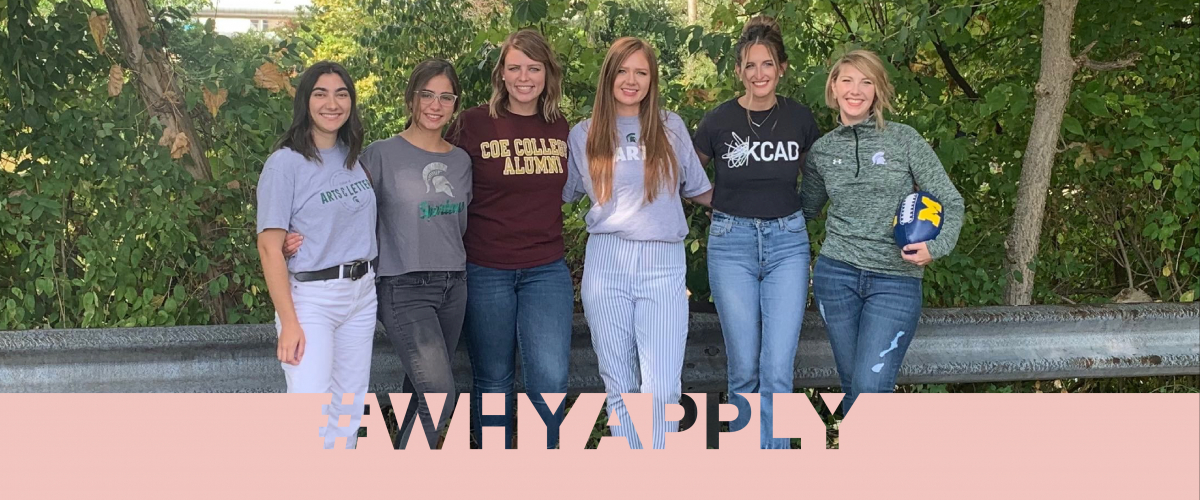 Why college? Our #WhyApply stories
Sep 20, 2019
Category: P&G culture
This fall, students across the country will be submitting college applications and discussing their plans for their future education. For some, it will be a celebration. For others, an assumption or expectation. And for some, it will be difficult— they may be the first in their family or neighborhood to apply to college. It may make for some uncomfortable conversations about money or culture or belonging.
Which is why it's so important for ALL of us to talk about college, and recognize the differences in why we applied, and what we did next.
Today is #WhyApply Day, a day sponsored by the American College Application Campaign, an initiative of ACT's Center for Equity in Learning. This day kicks off the college application season and aims to provide encouragement to students applying. 
Because at P&G we believe college is for everyone, no matter what post secondary path you pursue, our team is sharing our #WhyApply motivations and educational background stories. 
To dive deeper into our own definitions and understanding of education, we asked our team members what education means to them and what their different educational paths were. 
These questions led us on a wild ride of our stories, struggles and triumphs. We quickly realized, even though we teach and learn from one another every single day, education doesn't even mean the same thing to everyone on the P&G team. Here are our team members' education stories and their thoughts on education:  
Caroline Johnson, Assistant Strategist: 
"I have a complex relationship with education, as education itself is complex. But the older I get, I realize how boring life would be if I allowed myself to stop learning and growing, so I'll continue to educate myself however I can." 
Caroline's Journey: When Caroline was a senior in high school, she was deferred from Michigan State University and planned on taking a semester off and moving to her cousin's house in Hawaii. A few months later, MSU offered her a spot to start in the fall, which she accepted. Caroline discovered her major that first semester, and hasn't wavered from that path since. She is glad she began college right after high school, as it offered her the structure that she needed to succeed. 
Cassie Cotton, Associate Strategist: 
"I believe that knowledge is power. And for me, education opened doors for me in a way that experiences alone couldn't have. My education has given me the foundation to be successful in the workforce, and my experience has allowed me to grow and become a more knowledgeable professional."
Cassie's Journey: Cassie was dual enrolled at Des Moines Community College while in high school doing half days at each campus. After high school, she chose Coe College in Cedar Rapids, IA to earn her B.A. in business administration and public relations. After working for four years, she went back to school and earned a Master's in strategic communications from Michigan State University, while also working full time. Cassie applied to college because knowledge is power and she wasn't done learning.
Hadley Kerr, Student Strategist:
"Education is a way to grow as a student, a person and a young professional. It equips you with the skills and knowledge needed to work and live. It gives you an opportunity to explore different areas and find what you are passionate about. I see it in somewhat of a utilitarian way, like a means to an end."
Hadley's Journey: In high school, Hadley knew writing would be an integral part of her career, and first set out to be an author or magazine editor. She attends Michigan State University and majors in advertising management with a minor in graphic design and public relations. After taking her first class in PR she quickly fell in love with the discipline. She will graduate in May of 2021. Hadley applied to college to gain the skills and expertise she will need for her future career. 
Hilary Edwards, Creative Strategist: 
"Education is a lifelong process. If you stop learning, you become stagnant. I realize I am privileged to have access to educational resources, so I do my best to take advantage of those and grow."
Hilary's Journey: Hilary attended Saginaw Valley State University on a scholarship for two years after graduating high school, then she transferred to Kendall College of Art and Design and graduated with a B.F.A. in graphic design. Hilary applied because art and design are her passion and she wanted to make a career of it. 
Kate Snyder, Principal Strategist: 
"Education feels infinite to me, like something that can't be summed up or defined in simple words. It's a field, a mindset, an escape, a necessity, an opportunity, a challenge ... it's complicated."
Kate's Journey: Kate headed straight to Michigan State University after high school for four years, finishing a bachelor's in Interdisciplinary Humanities. Started a professional master's online program in 2007 and completed her Master of Science degree in Integrated Marketing Communications from Eastern Michigan University while working full time. Not a natural student, Kate saw college as a means to an end and barista'd her way through to her degrees.
Lisa Assenmacher, Creative Strategist: 
"Education goes beyond the classroom and happens with every conversation, relationship, experience, book and other everyday circumstances. It is everywhere you look."
Lisa's Journey: After high school, Lisa attended Michigan State University originally interested in Interior Design, but changed her mind at least once a semester until she landed on Urban and Regional Planning with a specialization in GIScience. She got a student position making maps and learned a graphic design software, but eventually went back to Lansing Community College to get her Associates in Applied Arts in Graphic Design. From there, she got her Masters in Business Administration from Eastern Michigan University. Lisa applied to college because classroom-based education helps provide a baseline where experiences can help you to practice your profession in an intentional and tangible way.
Shannon Janczewski, Executive Assistant:
"Education, to me, is the process of learning — whether it be formal education in school, learning things through self-teaching, or even learning through life experiences. I don't feel one form is necessarily more valuable than another; education, in general, is essential." 
Shannon's Journey: After wrapping her college prep classes by sophomore year of high school, Shannon completed a two-year vocational course in business administration. But like so many students, Shannon's original plans for college were derailed. She fought through a chronic illness to learn on-the-job, and continues her education and learning through professional development seminars, mentoring, and a whole lot of trial-and-error self-teaching. 
Zoe Howard, Assistant Creative Strategist: 
"To me, education is learning new skills, beliefs and methods that help me understand the world! My education path was pretty typical up until college — then it was back and forth until I decided what I wanted to do."
Zoe's Journey: After high school Zoe attended Lansing Community College for two years, taking a gap year in between freshman and sophomore year. She transferred to MSU as a junior and spent a year as an advertising major. After taking a graphic design course she switched her major and has loved studying graphic design ever since. She wanted to broaden her horizons with a creative application, and will be graduating with a BFA in graphic design this December.
The fact is education is complex, but it doesn't have to be complicated. The primary purpose of the American College Application Campaign is to help high school seniors navigate the complex college application and admissions process. We all have different stories and we are proud to share our #WhyApply motivations to encourage students to pursue their postsecondary education.