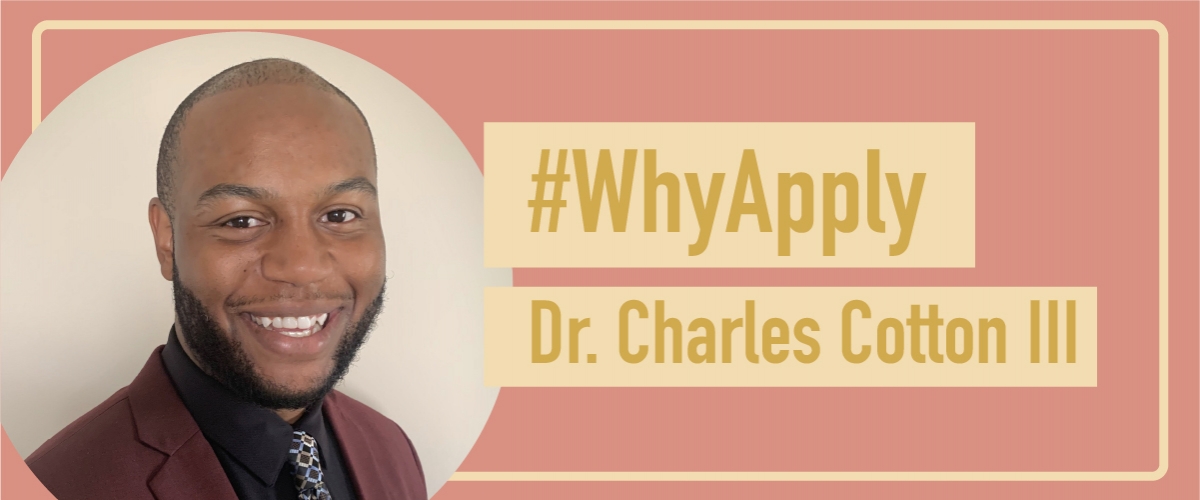 #WhyApply with Dr. Charles Cotton III
Sep 18, 2020
Category: What's new
A note from P&G: One of the things we've learned as allies — and a group of mostly white gals — is that when you have the opportunity to amplify the voices of others: you do it. Today, we're so honored to celebrate #WhyApply Day by sharing the voice of our friend, and Cassie's partner, Dr. Charles Cotton III. Charles earned his Bachelor of Arts degree in African American Studies with history and creative writing minors from Coe College in Cedar Rapids, Iowa. He then went on to earn a Graduate Certificate in Teaching and Learning, Master of Arts in Student Affairs Administration, and Doctorate in Educational Leadership from Michigan State University. He currently serves as the vice president for enrollment management at Clarke University! 
Thank you for sharing your story and your knowledge, Charles. We appreciate you.
I cannot even begin to talk about the importance of #WhyApply Day without first acknowledging the widespread inequality in our country. As a Black man who grew up in Metro Detroit, I was but a mile away from both housing and educational opportunities far beyond and far "below" what I personally received. As a teen, I often took my educational access for granted and it was not until I entered the field of higher education that I understood how grand those very disparities were. Oftentimes these disparities were mere reflections of socioeconomic status. Which creates a very difficult cycle for many to escape. Socioeconomic status often equals access to quality education, and quality education often has an impact on a students' long-term socioeconomic status. 
All this to say that #WhyApply Day is, in many ways, a call to break this very cycle. It is a push for students to apply to college and demystify the college search and application process. I do not know where I might be today if it was not for resources and efforts like #WhyApply Day. However, I do know that community efforts and the impact of folks both within and outside of school have gotten me where I am today. 
My parents, neither of which attended college themselves, were huge proponents of me doing so. This along with my own intrinsic motivation led me to apply to over 20 colleges and universities all across the country. The very thought of applying to so many schools did not even cross my mind until someone told me about the common application and how it could simplify the college application process significantly. Having the ability to apply to so many schools using one application was immensely helpful. 
What was even more helpful was what took place not long after applying. I began to receive acceptance letters. Even more important than the acceptance letters themselves was the fact I now had options. Having a choice, not only between various different colleges and universities but also whether I wanted to pursue college at all or pursue another economic venture, like starting my own business or going to trade school, were all on the table. There were no more "what ifs" for me. There was no more, "well I don't even know if I will get in," or "I don't know if my grades are good enough for scholarships there." These all became a thing of the past quickly after getting accepted and I began to review the various scholarship offers with my family. 
An additional side effect of applying to not only one school, but multiple is that I now had something to compare other schools to. I had more than one college campus to potentially visit and gauge if it felt right. I ultimately ended up at a small private liberal arts institution for my undergraduate degree because, for me, what was most important at that time was small class sizes. I wanted an engaging classroom environment that in many ways mirrored the experience I had received in my advanced placement classes in high school. 
This one decision, to apply to college, not only was the start to a successful pursuit of an undergraduate degree, but it led me on a path to completing both a master's and a doctorate degree. In so many ways I have been blessed. Applying to college has afforded me many professional and personal opportunities for betterment. I have had many opportunities to give back and support students on similar journeys through my work as a higher education professional. In my career, I have been honored to serve as a director of admissions and in the next few weeks begin my journey as a vice president of enrollment management. 
Every day it has been important for me to remind myself of all that I have. Whether that be the people in my life who love and support me or simply the opportunity to live out another day. As important as it is to remember and appreciate all of the blessings we have been afforded, it is just as critical that we continue to strive for change and betterment for ourselves and one another. And, that is the reason #WhyApply Day is so important! 
Dr. Charles Cotton III is the vice president of enrollment management at Clarke University in Dubuque, Iowa. He's the lucky hubs of Piper & Gold Senior Strategist Cassie, pup papa to the P&G team's beloved Ella and Ray, and a vehicle aficionado who loves to grill.