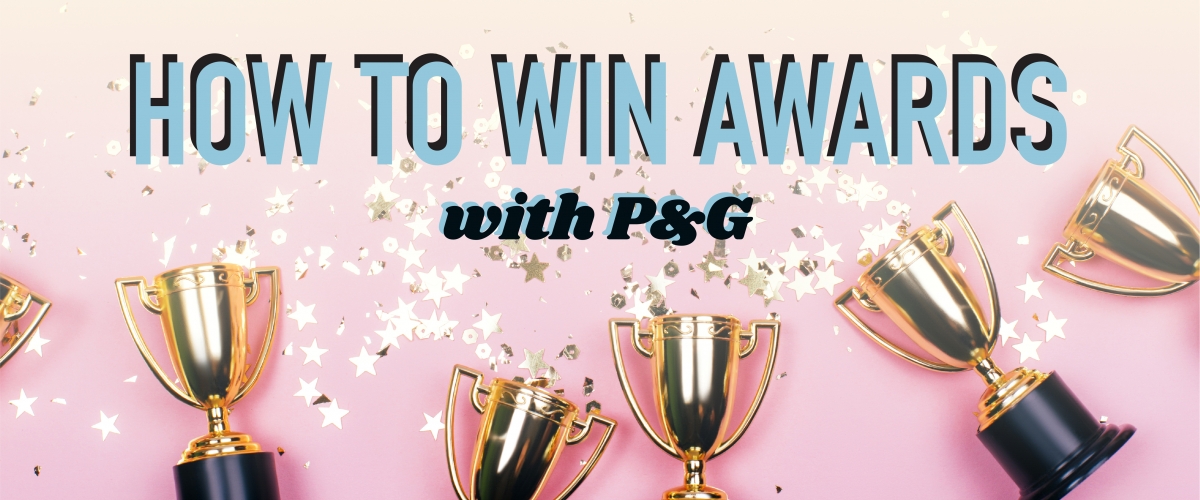 P&G has won a lot of awards over the years. I don't say that to brag because it's the truth, and we put time into making that a reality. Awards offer agency teams a chance to reflect on their performance from the past year and the resulting work. It's an opportunity to showcase to your clients additional value in the work and highlight that what you do for them can be celebrated beyond the deliverable. It's about recognizing results and impact.
Over the past few weeks, we have written blogs highlighting some of the awards P&G has won throughout the past year. Winning them was not only about the award-winning work itself, but the time taken to develop high-caliber, intentional and strategic submissions. 
I don't know about you, but to me, awards submissions just suck. They're always stressful, and no matter how hard you plan they always feel hectic. For me, a lot of that is rooted in trying to distill down months — or years — of work into a paragraph, page or two-sider. HOW? Here's some help ...
Throughout my career, I've judged local, regional, state and federal awards and grants, including scrutinizing thousands of student papers and projects during my time as a professor. From my experience, the best award-entry writers are usually former judges. If you truly want to be able to write award-winning entries, I suggest you volunteer to be a judge. The insights you'll gain will be invaluable to the process. 
The best advice I have ever received in relation to awards is that it's not about how hard you worked, it's about the results. So when you're trying to decide, "Would this make a good award entry?" the biggest thing you want to consider are the tangible results. While it may matter to you, your team or the client how much blood, sweat and tears you poured into a campaign, at the end of the day, if you don't have research, planning, execution and results, it just may not be worth putting in for an award.
THE JUDGING SHEET RULES ABOVE ALL
Judges only know what you tell them about a campaign, and chances are they are working directly off a judging sheet. Every single time I can get my virtual hands on one, I look at those judges sheets while preparing an entry, for past awards and -- most importantly -- for non-winning submissions. Every new perspective, every piece of constructive criticism, every point lost — I want to understand it so we can continually do better and be better for ourselves and for what "better" will allow us to do. 
"Better" isn't just some competitive benchmark (though don't get me wrong, I am competitive as hell). Better means more people learn about something they need, something they deserve, something that can help them. Better means improving how a client provides services or connects with their communities. Better is about better lives through better outcomes, not just about career success or awards. Better makes us better at our jobs.
All awards are different, so judging criteria can vary greatly in terms of what information to provide, what success looks like in that context and how much info judges expect. Some awards focus on the aesthetics and others are judged based on the process and results. My focus today will be tips for process- and results-focused award submissions, because that's my world. Let's do this and get you some awards!
TIPS FOR CREATING AN AWARD-WINNING SUBMISSION:
Stick to the absolute BEST work from a results standpoint for entries. Look at the judging sheets and criteria and critically assess if what you have in mind actually fits. It's OK to say no if it's too far of a stretch.     

You've got to remember that you are being judged. So while there is a level of subjectivity, there are also points. You HAVE to write to the judging sheet. Have it in front of you when drafting your entry. Make sure every single point is covered, and if it's not, say why. Use your words to earn the points. Use the same labels, order and categories as the judging criteria. Make it SUPER easy for them to give you all the points.

Your summary is the single most important piece of any entry you submit. It's the opening that sets the tone. You need to think like a judge who is seeing your materials for the first and only time. Don't skimp on the energy and intentionality that goes into your summary. All the supporting documents in the world won't help you if a judge can't fully score you based on your summary text or document.

Readability matters in submissions, so tell a story. If your entry bores you, it'll bore a judge. And make it easy to read -- use bullets, bold font, clean formatting, easy-to-read fonts or anything to help someone skimming 30 to 50 entries on a computer screen understand why this is award-worthy. It is your job to make it clear to them why your submission is award-winning work. They don't have time to read between the lines.

Give your entry and judging form to someone who has industry knowledge but no knowledge of the specific work you're writing the submission for, and ask them to score it. Chances are they'll catch the things that feel too obvious to you to even think to mention but are missing or feel confusing.

Presentation matters. Make anything you include clear, clean and concise. Remember, it's not about quantity or how hard you worked, but about the results. If you're including materials, make them visual, and make them count. Label them in such a way that it directly connects back to the judging criteria and overarching goals. 

Back everything up with NUMERICAL results, both narratively and in your supporting materials. If you don't have quantitative results, unless it's an artistic award, you probably shouldn't be entering it. Client testimonials can sometimes substitute for the numbers, but at the end of the day, the results are what matter most.

Not sure HOW to write a great entry or what it sounds like? PRSA has a series of tips and former Silver Anvil summaries on its website. Other awards may have past winners to help you understand what they are looking for, so always check there first. 

Award writing, gathering and coordinating is not easy and takes a lot of time. There are people who have a specialty in doing this work, so if you have the means consider outsourcing! If that's not feasible, consider making a part of your project wrap-up process going through different common elements of awards and putting them into a preliminary summary format so you are that much closer to an entry when the time comes.
Developing a strong award system and process can make all the difference in the results your team will see in the future. Try incorporating some of these suggestions into your next round of submissions and let us know how it goes. Go forth and brag about how awesome you and your team are. You deserve it!