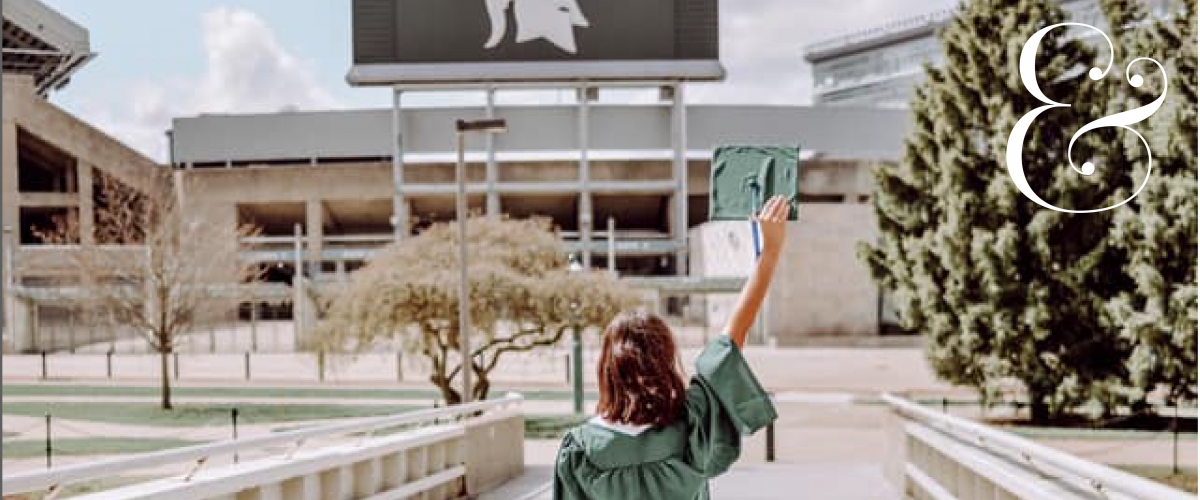 Looking back and looking forward with Hadley
May 19, 2021
Category: What's new
One of my first events as a Piper & Gold student strategist was attending the 2019 CMPRSA PACE Awards. I had been working at P&G for about two weeks, barely finished with training and just getting acclimated to working in the fast-paced agency environment. That year, P&G won a number of awards, and Founder Kate Snyder was awarded the PACE Maker of the Year. Kate thanked each team member specifically — including me — in her acceptance speech, even though I had just started at P&G. I felt accepted and welcomed. In that moment, I knew this was the environment I wanted to learn in and grow throughout my time in college. 
I think spending more than two years at an internship is rare. Most students try to work at as many internships as they possibly can to bolster their resume. While working multiple internships helps you gain diverse work experience and learn new skills, for me, working at one agency for two years gave me more than I ever thought it could. By working with many different clients in B2B and B2C sectors, I gained knowledge on a number of industries. I also learned and mastered many new skills as each client needed something different from the agency.
But the reason I made P&G my home for as long as I did is the supportive and inspiring group of women I have the honor of working with every day. Our team is made up of teachers, leaders and mothers who are each unique in their talents. I have been able to both learn from them and teach them as we work together for our clients and our community. 
Throughout my time at P&G, I've grown as a student, a public relations practitioner and a person. I've tried new things and found both my passions and my pain points in the communications industry. I am able to communicate directly with clients, serve at the forefront of innovative campaigns and leave my mark on the Lansing area. I simply couldn't imagine my college experience without being a member of the P&G fam. 
I want to thank my team at P&G, the women who constantly push me to be better, motivate me and encourage me. I am fortunate to not only have colleagues, but friends in my workplace. From in-office lunches to Zoom brainstorming sessions and team bonding, I will cherish the memories I've made with each of you for years to come. 
I want to thank Cassie Cotton, my closest mentor and confidant. Through our years of one-on-ones, Slack messages and FaceTime calls, I know I can truly rely on you to help me whenever I need it. Your guidance and lessons are something I will hold onto for the rest of my life. 
And lastly, I want to thank Kate Snyder, who took a chance on me as a young sophomore, just beginning in my communications career, but ready to begin. Your leadership, encouragement, boldness and unapologetic badass behavior has inspired me to be the best version of myself every day. 
What's next for me? This May, I graduated from Michigan State University with a Bachelor of Science in advertising management and minors in public relations and graphic design. I graduated with honors as a member of the Honors College and the dean's list. In addition, I was honored as the Outstanding Senior in Public Relations by the advertising and public relations department. 
This summer, I will be continuing my career in public relations with a new challenge. I will be working at Edelman, the largest public relations agency in the world, as a part of their health team, serving clients in the healthcare and pharmaceutical sectors. There's no doubt that my experiences at P&G working with health-related clients such as the Michigan Public Health Institute fostered my passion for health communication and helping communities. 
Although my time at MSU and P&G has come to a close, I am looking forward to the next chapter of my life. The invaluable knowledge and experiences I gained at P&G are something I will hold onto for the rest of my career. The friendships and memories are something I will hold onto for the rest of my life. Thank you.