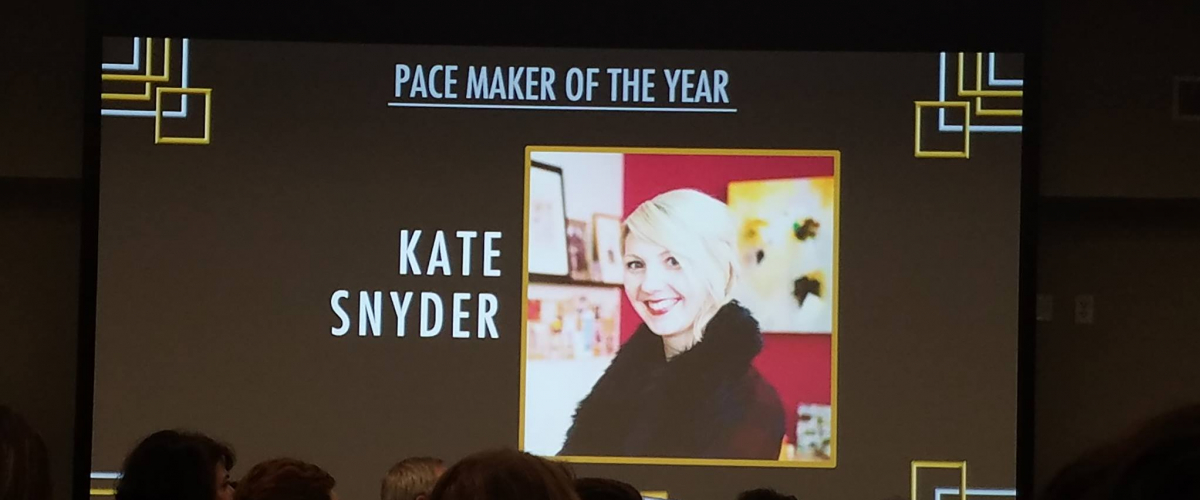 A PACE Maker: The woman behind P&G
Apr 19, 2019
Category: What's new
Last night Kate won a really big award. 
Basically a lifetime achievement in PR, and the top honor presented to an individual by the Central Michigan Chapter of the Public Relations Society of America. (Don't worry, we're pretty sure she's got a lot more life ahead of her.) 
Next week, she'll share her thoughts on the matter in the blog, and we'll share a little more about the agency recognition we're thrilled to have received. But today, we want you to know WHY Kate is so incredibly deserving of the PACE Maker of the Year Award. 
Our team was honored and stoked to submit the following nomination letter earlier this year. We think you'll enjoy learning about our fearless, fabulous leader.
Please join us in congratulating Kate, a compassionate colleague, dedicated boss, selfless mentor, tireless entrepreneur, loyal friend and all-around bad ass businesswoman on being named the 2019 PACE Maker of the Year. 
2019 PACE Maker of the Year Award Nomination: Kate Snyder, APR
It's Kate's turn, don't you think?
Not only does she categorically tick off boxes for each of the PACE Maker criteria, but demonstrates leadership, innovation and creativity in literally every aspect of her career and life, as well as truly embodying the values and ethics of PRSA. Kate is a savvy, sharp and smart (and let's be real, sassy) public relations practitioner and veteran strategist who inspires and empowers her clients to connect with their audiences and customers in new, dynamic ways.
I have no doubt that the fabulous past honorees evaluating this year's nominees have in some way felt the impact of Kate's commitment to our region and industry. 
Following her stint as Vice President of Communications for CiesaDesign, in January 2012, Kate founded Piper & Gold Public Relations, a boutique agency in Lansing, Michigan focused on using the power of words to make an impact. An accredited public relations professional, Kate focuses her head and heart on creating communication that makes our world better for everyone. She writes and speaks about working with government, nonprofits and businesses to be more conscious of their messages, build valuable relationships, and always – ALWAYS – focus on how their efforts connect to their strategic goals and purpose. Kate has built an award-winning business committed to doing big work in a small community, and her extensive expertise and passion will motivate you to do the same. She believes in the power of stories to help her clients move their audiences to action. Yes, even government agencies can tell stories. And they should.
For nearly a decade prior, Kate immersed herself in Michigan talent and workforce conversations as the chief communications officer at Capital Area Michigan Works! in Lansing. During her years in workforce development, Kate played host to reporters and media crews seeking to cover The Great Recession. She worked with outlets including U.S. News and World Report, USA Today, National Public Radio, CNN, The New York Times and international media outlets from France, Japan and Denmark. Her media relationships and savvy helped to position Greater Lansing as a critical part of Michigan's comeback, focusing coverage and news reports on stories of retraining, innovation and business success amidst economic hardship. Kate managed the award-winning crisis communications surrounding the 2005 collapse of the CAMW! American Job Center building. She also led the award-winning rebranding and launch of T3: Teach. Talent. Thrive., a private-sector driven effort to help Greater Lansing become the exemplary STEAM region in America.
Since founding Piper & Gold, her accomplishments include conducting a massive undertaking in leading and developing the multiple award-winning public feedback process for Shaping the Avenue, an immense initiative covering an 8.5-mile stretch of the region's key corridor. Piper & Gold compiled input from five municipal partners, dozens of community stakeholders and hundreds of engaged citizens to help redesign the buildings, land use and movement of vehicles along this vital route.
Another key accomplishment was helping the Impression 5 Science Center reinvent its message and voice, shifting focus from exhibits and programs to spotlighting its unique ability to help children keep their sense of wonder. 
(At the end of this nomination, I've included a case study that perfectly demonstrates Kate's outstanding leadership/management skills, innovation and creativity in a project or program that was challenging and/or difficult in nature.)
Kate is responsible for leading the P&G team to more than 70 local, regional and national communications awards, including Hermes Creative Awards for the launch of Impression 5's dynamic FLOW exhibit, a Scary Mommy editorial challenging national legislators to protect the adoption tax credit and the Michigan Public Health Institute's strategic communications plan, as well as for P&G's own internal promotions work. Piper & Gold has been recognized by the Michigan Small Business Development Center as a Best Small Business, one of only a dozen recognized out of nearly 6,000 statewide. Kate was named one of the "10 Over the Next Ten" by the Lansing Regional Chamber and Grand River Connection, as well as one of the "10 Most Influential Women on Twitter" by GL Woman magazine.
Currently serving on the PRSA Counselors Academy Executive Committee, Kate is a former assembly delegate for the Public Relations Society of America. She has deep volunteer experience for our Central Michigan Chapter of PRSA, including serving as president-elect in 2007, president in 2008 and past-president in 2009 and 2010. Kate also served as APR chair to CMPRSA and was the youngest person in the country to get her APR, which she accomplished 2005.
She is tapped to speak at conferences around the country on the importance of strategy in social media, building community relations programs and delivering media relations with a customer service attitude. She's spoken at PRSA ICON for several years in a row, as well as the Administrative Professionals Leadership Summit, Association of Fundraising Professionals, Michigan Association of Planning, Michigan Community Action, #Social Mitten, Michigan Works! Conferences, Points of Light Conference, Michigan Health & Hospital Association, Small Business Association of Michigan, Michigan Library Association, Traverse Area District Library, and Michigan School Public Relation Association. 
Having earned a master's degree in integrated marketing and communications from Eastern Michigan University and a bachelor's degree in interdisciplinary humanities from Michigan State University, Kate pays it forward by teaching public relations. She has served as adjunct faculty at Michigan State University, Lansing Community College and Siena Heights University since 2006. She routinely hires students to work at P&G to give them real-life experience in their chosen fields, mentoring them not only in the hows of what we do but more importantly in the whys of what we do as an agency.
Taking community service seriously, Kate has lent her time, talent and treasure to a multitude of organizations over the last decade, including: Impression 5 Science Center, Wharton Center for the Performing Arts, Capital Region Community Foundation, Small Business Association of Michigan and the City of Lansing, Arts Council of Greater Lansing, the Michigan Council for Arts and Cultural Affairs Young Leaders Society, and the Eli and Edythe Broad Art Museum, among others. Her numerous volunteer experiences include: Capital Area District Library, Michigan State University Alumni Association, MSU Alumni Club of Mid-Michigan, Riverwalk Theatre, Lansing Civic Players, Owosso Community Players and Holt and Dimondale Community Players. She is also a Certified Tourism Ambassador (CTA) through the Greater Lansing Convention and Visitors Bureau.
Kate shows us that PR is a powerful business – we can influence behaviors, change minds and expose injustices. And that's why we're here – because of her vision and drive. Each member of our Piper & Gold family wants to use her or his skills to make a difference. She is dedicated to uplifting women in business, she's a passionate advocate for the arts, and she makes it her mission to ensure those without a microphone are heard loud and clear.
She has been tireless in the effort to provide a robust benefits package to P&G employees, including up to 100 percent paid medical insurance, domestic partner benefits, unlimited vacation and 10-week paid parental leave for any new parent including birth, surrogacy and adoption.
She shows us that entrepreneurship is too hard to "just" go to your company and work every day. It takes too much from you, and if there's not something giving back, feeding your soul, it's easy to burn out or give up. So, she not only built up a solid small business, but one where we use our unique public relations skills to make an impact in our community. Where we are more than just co-workers, but a tight-knit family that supports one another inside the office and out. Where we can truly effect change on our own lives and the lives of the people around us.
I think you'll agree that Kate is immensely deserving of this recognition.