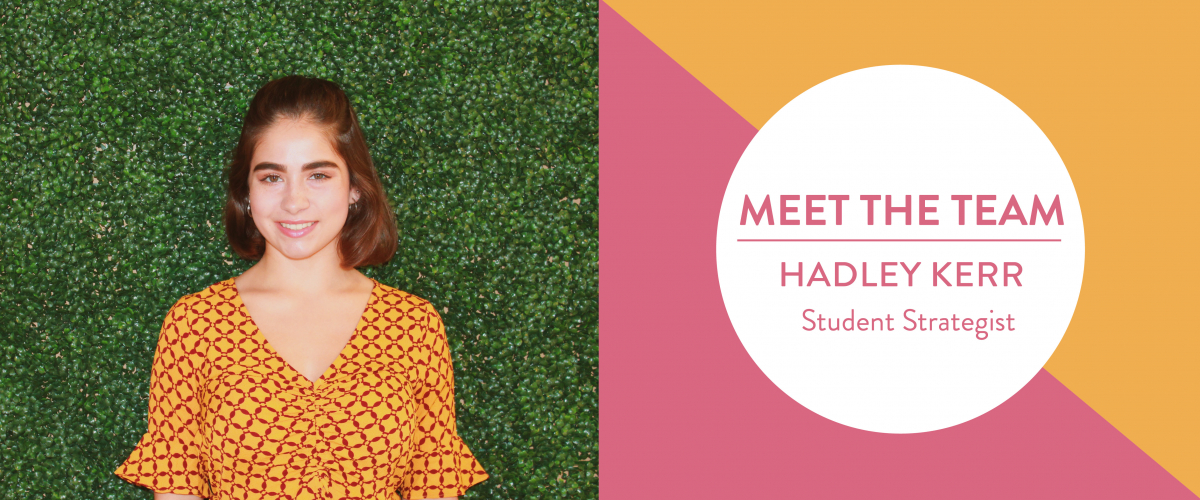 Hadley Kerr is laser-focused and results-oriented in all of her endeavors, whether she's drafting a press release for a client, or finishing a captivating novel. She is happiest when she is producing work that amplifies the stories of others. Her no-nonsense attitude allows her to create high-quality professional work that communicates the client's purpose clearly and with ease. 
As a student strategist for Piper & Gold Public Relations, Hadley spends her days composing powerful social media campaigns, newsletters and releases to promote a wide range of clients and inform the public. She plays a key role in our agency's internal social media strategy and content creation through drafting copy and brainstorming campaign ideas. Hadley is involved in P&G's client relationships and new business processes, taking an active role in planning and client meetings. 
The Grand Rapids native will begin her third year at Michigan State University this fall, studying advertising management, public relations and graphic design. She is the assistant director of MSU's student-run public relations firm, Hubbell Connections, an executive board member of MSU's Public Relations Student Society of America chapter, a member of Delta Sigma Pi professional business fraternity, and a part of the Women in Advertising and Communication Mentoring Program. 
When she's not in the office or class, you can find Hadley staying active at the gym, in a yoga class or on a hiking trip to Colorado, and relaxing by drawing and listening to her favorite podcast.  
Notable results:
Recipient of the J. Christopher Preuss Public Relations Scholarship, Richard E. Augenstein Public Relations Scholarship, Smitter-Wright Internship Scholarship and Communication Arts and Sciences Endowed Scholarship. 

Creating and managing social media campaigns for MSU's Health Risk Communication Center and its various programs, effectively increasing enrollment to the Health & Risk Communication Master's Program. 

Gained a new perspective on public relations and education as a teaching assistant for multiple semesters of ADV 225 Course Principles of Public Relations and ADV 325 Course Public Relations Techniques and Ethics at MSU. 

Member of MSU's Honors College, earning a spot on the Dean's List.