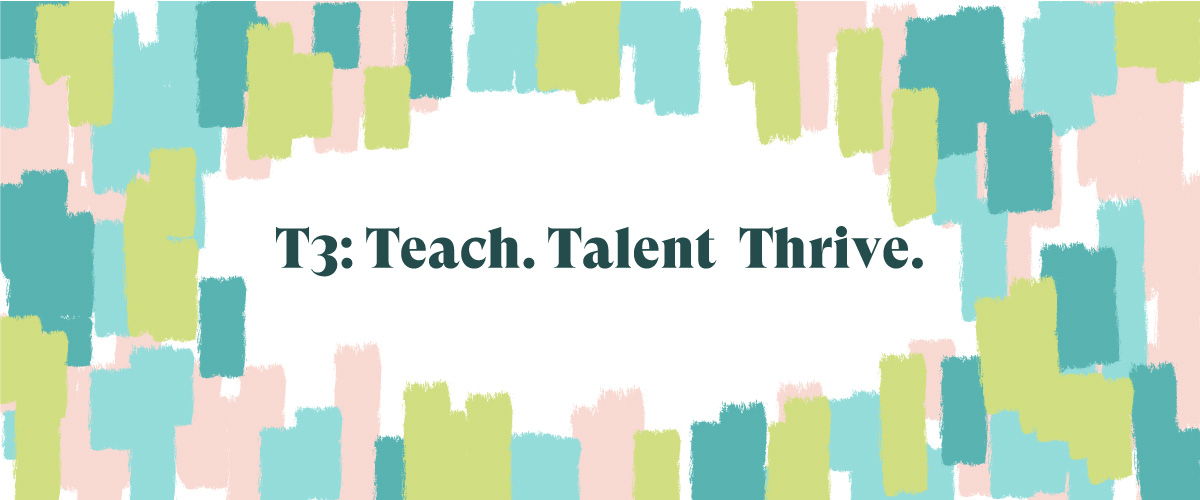 Beyond the Bling is a blog series sharing a look inside our award-winning work. As a part of our #EmpoweringEducation theme, we are throwing it way back to the launch of Talent.Teach.Thrive., — or T3 — in 2016. The organization's goal is to grow an exemplary STEAM (science, technology, engineering, arts and math) region in mid-Michigan.  
Client: T3: Talent.Teach.Thrive. 
Project: Special Events, Talent.Teach.Thrive. Launch
Partner: Redhead Design Studio
Awards: 
Special Events, Pinnacle Award, PACE Awards
The People's Choice Award, PACE Awards 
Snapshot: 
T3: Talent.Teach.Thrive. was born out of Keep Learning … Our Future Depends On It, a public service campaign from the early 2010s. The goal was to grow a community committed to making mid-Michigan the exemplary STEAM region in America, led by more than 30 community and business partners. So, when T3 launched in January 2016, it wanted to leverage these strong partnerships and go beyond a typical launch strategy. In partnership with our smart friends at Redhead Design Studio, Piper & Gold Public Relations provided research and dialogue to support the rebranding of Keep Learning. P&G was faced with the challenge of coordinating and facilitating dialogue among the more than 30 community and business partners that lead T3 to inform Redhead's rebranding a decade-old initiative. The team launched the new T3 entity via Career Challenge Day, serving as the public unveiling of T3 to mid-Michigan. 
Research:
P&G conducted secondary demographic and psychographic research prior to the launch of T3. The demographic research on families in the tri-county region and psychographic research on parental motivations revealed insights on STEAM education and lifelong learning. P&G also led conversations with various stakeholders prior to the launch, meeting with educational organizations throughout the region to gain further insight on STEAM education, as well as business and community stakeholders for input on the talent and skills our region is seeking to develop and maintain. 
Planning and execution:
Target audience: The target audiences for the T3 launch were educators and businesses/professionals in the capital area. Educators were a target audience because these are the people who are bringing STEAM into classrooms. Capital area businesses were identified as a target audience because the professional community provides the resources, investment and support necessary to make the region prosper in talent development and retention. 
Objective one: The first objective of the T3 launch was to help students in our region learn about local jobs and the STEAM skills used every day in these professions, and meet the people doing those jobs now.
P&G launched Career Challenge Day on Jan. 28, 2016, to bring 100 professionals into 100 classrooms in 16 schools throughout the tri-county area. The Career Challenge Day event served as the public launch of the new name and brand Redhead Design Studio developed for T3, centering around an event to increase chances of media coverage.
P&G distributed "Take the Career Challenge" handouts to schools, educators, businesses and professionals. 
These handouts outlined what T3 is, what Career Challenge Day is and the benefits to involvement. Each participant, both educator and professional, indicated one of 16 STEAM areas that was their primary focus. After 100 professionals and 100 classrooms were identified, P&G strategically paired the professionals and classrooms based on the primary area of focus. 
To help ensure the quality of Career Challenge Day presentations, P&G partnered with Junior Achievement to develop a speaker outline that professionals could reference when developing their presentations, and provided webinar training for speakers. Handouts outlined the fundamentals and importance of STEAM, learning objectives for Career Challenge Day and key presentation elements including education and career background, the connection between STEAM curriculum and work, and a hands-on activity. 
P&G worked with Redhead Design Studio on a "Full STEAM Ahead" handout that outlined popular answers to "What I want to be when I grow up?" and the education level and wages associated with those careers. P&G conducted research on each individual career and crafted the language. Redhead created the visuals. To help ensure T3 messaging reached parents and families, P&G created T3 wristband for participating students to give them something their parents might ask about.
Objective two: The second objective of the T3 launch was to create engagement throughout the community to join in on the commitment to making mid-Michigan the exemplary STEAM region in America.
A traditional public relations tactic for a rebrand or launch would often be a press conference. P&G took a nontraditional approach to create engagement and establish a new community dedicated to lifelong education. Career Challenge Day served as the official T3 launch to earn media coverage while simultaneously engaging businesses and professionals, schools and educators, students and families. 
P&G developed talking points for partners and stakeholders to discuss T3, issued a media advisory and post-event release, transitioned Keep Learning social media accounts to T3, and developed a newsletter article outline for T3 partners and participants to use to share their involvement with the launch.
Evaluation: 
Objective one: The campaign achieved its goal of exposing students to STEAM skills and professions by enabling 100 professionals to engage with more than 3,000 students throughout the capital area. P&G measured the impact of Career Challenge Day and the success of exposing students to STEAM skills by distributing a survey to participating educators and professionals. 
The survey results provided both quantitative and qualitative data on the perception and impact of Career Challenge Day. One hundred percent of survey respondents — both educators and professionals — indicated they would participate in future Career Challenge Days. Qualitative data from both parties revealed high engagement levels among students throughout the presentations. Prior to Career Challenge Day, only 4.35% of educator survey participants and 15% of professional survey participants were aware of T3 and its efforts. After Career Challenge Day, 90.91% of educators and 85% of professionals have a better understanding of STEAM skills. Additionally, 86.36% of educators now feel better connected to greater Lansing's business assets and community, and 75% of professionals feel better connected to Greater Lansing's educational assets and community. The qualitative data gathered by this survey on the preparation and execution of Career Challenge Day and general perceptions of STEAM education will be used as the campaign moves forward.
Objective two: The campaign achieved its goal of gaining exposure throughout mid-Michigan through earned media impressions, social media engagement and mentions in partner newsletters.
The T3 launch campaign earned media coverage in the Lansing State Journal, WILX TV-10 evening news, WLNS TV-6 evening news and six episodes on Michigan Business Network. The LSJ ran an article in its Sunday paper with a circulation of 65,904 and ran the article digitally on its website with 317,806 unique visitors. The estimated potential viewership of the WLNS evening news was 184,306, and the estimated potential viewership of WILX evening news was 266,966. Michigan Business Network ran segments 210 times. 
Messaging across social media and partner newsletters was consistent with T3's goals thanks to the talking points and newsletter outline created for partners by P&G. Facebook insights revealed that on Jan. 29, the day after Career Challenge Day, the T3 page received an organic reach over four times higher than the page's average reach prior to the launch. 
"The students left my classroom buzzing with thoughts and excitement about their future careers in health care." – Allison Clawson, Eaton RESA.
"I had a great time presenting to Mrs. Pierce's class. The students responded well to the activity (looking at data from a recent research report) and asked great questions. I'd love to do this again next year! My daughter also had a speaker in one of her classes at MacDonald Middle in East Lansing. She said the nuclear physicist was 'very funny' and she liked the presentation." – Colleen Graber, vice president, director of education and workforce at Public Policy Associates Inc.
"Once again, I would like to express my thanks, on behalf of my colleagues and fellow teachers here at MacDonald Middle School for the exciting and informative experience you provided all our students here. I received many remarks from the teachers: 'My kids seemed to be glued to their seats by the presentation,' 'My students just couldn't stop asking questions,' 'Our presenter had the kids working in groups to plan the new green space in downtown East Lansing. They were so into it.' Thank you for your coordination and behind-the-scenes magic. I hope we can work together again next year!" – Rob Voigt, MacDonald Middle School.