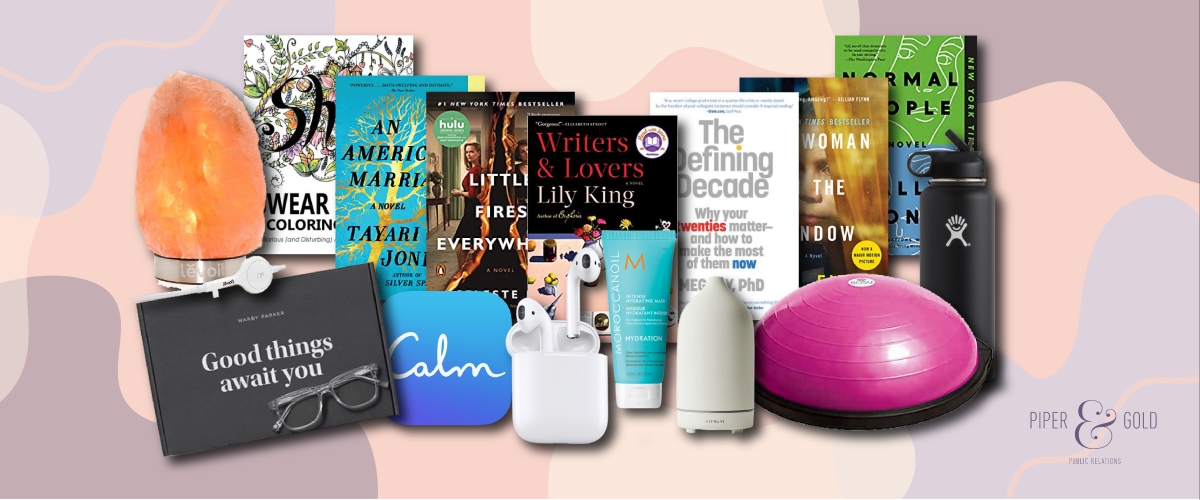 Little things to make working during a quarantine more bearable
Apr 8, 2020
Category: P&G culture
Two weeks ago our boss and P&G founder, Kate Snyder, made a special announcement at our weekly team meeting — Piper & Gold was offering a wellness stipend to its employees. The intention of the stipend wasn't to buy office supplies like pens, monitors, notebooks or printers so that we could perform our jobs — we were offered these supplies in addition to our wellness budget. 
These wellness purchases are meant to help us do more than survive quarantine — Kate insisted these purchases were supposed to help us thrive. 
Now, some of these items are resources to make WFH easier, like blue light glasses and lap desks, but the items purchased through our wellness stipend are the personal property of each P&G employee, not assets of the company. They're meant to help us cope, stay healthy and function during these weird, hard times. 
And we learned a lot about our own needs, and others', so we wanted to share the items P&G team members are going to rely on to get us through this unprecedented pandemic and social isolation. 
The first thing Caroline, one of P&G's assistant strategists, purchased were Warby Parker blue light glasses in Watts, courtesy of former-P&G employee and current Warby Parker team member/P&G fan, Caleb Johnson. For some anxiety and stress relief, she bought a Swear Word Coloring Book, which wouldn't be complete without Prismacolor Premier Color Pencils. And finally, a few books to take her mind off of the current state we're living in — "The Woman in the Window" by A. J Finn, "Writers & Lovers" by Lily King and "The Defining Decade" by Meg Jay. 
Finding the right items was hard at first for Senior Strategist Cassie. After almost two weeks of contemplation — and plenty of feedback from her coworkers — Cassie settled on a few practical options. The first was a better/stronger router, Cassie shared: "It's not very exciting but I am really looking forward to it… This will help when I work outside which brings me joy." And to help change up her environment, Cassie is getting a lap desk so she can work, grade papers (she's also an instructor at Lansing Community College) and browse Pinterest comfortably from her couch.
Like Caroline, Emma, another assistant strategist, immediately bought Warby Parker blue light glasses in Haley to help ease the strain of staring at a computer almost all day. And to make her home office feel more comfortable, she invested in plants from Pigment. In an attempt to slow down her coffee consumption, she bought tea, which will pair nicely with her final purchase, "Little Fires Everywhere" by Celeste Ng.
Recently promoted (yay!) Assistant Strategist Hadley invested in her personal fitness with a FitBit and some resistance bands for WOFH (working out from home, it's a thing, okay). And for when Hadley isn't working out, she'll be enjoying her two new books "Normal People" by Sally Rooney and "An American Marriage" by Tayari Jones. By the time we can leave our houses, Hadley might be more jacked and well-read than all of the other P&G employees combined. 
Our creative strategist, Hilary, also appreciated our Caleb connection and got Warby Parker blue light glasses in Haskell, and she swears they've already been a life-saver. And in a desperate attempt to "be mobile," Hilary purchased refurbished Airpods and she's been loving walking around her house without having to stop whatever podcast she's listening to; right now, she's listening to Man in the Window: The Golden State Killer. 
Owner and Principal Strategist Kate purchased items that are practical and will help her relax. She got an UprightGo necklace to go with her actual UprightGo, which helps train and track your posture. She decorated her home office with a salt lamp and air purifier. And to help her sleep better, she purchased a sleep mask.
Senior Communications Strategist Malorie used the wellness stipend to finally treat herself to a diffuser she's been eyeing for a while. Her favorite essential oil to put in it to freshen up her workspace is lavender. Additionally, she's trying out meditation for the first time ever with a subscription to the Calm app — which Kate swears by.
Our communications strategist, Tess, invested in a few items to keep her body moving indoors. She purchased a bosu ball, a super versatile workout product, and a virtual class pack for the Lean Body Studio. Tess highly recommends Lean Body Studio to anyone who is looking to support Michigan businesses during this time. 
And alphabetically last, but certainly not least, our student creative strategist, Zoya, also invested in refurbished Airpods so she can listen to music on-the-go. For a little self-care, she purchased a MoroccanOil hair mask, a Hydro Flask water bottle and a couple books — "Wild" by Cheryl Strayed and "Little Fires everywhere" by Celeste Ng. 
We're grateful and humbled to be in enough of a position of privilege to treat ourselves during these difficult times, because we know not everyone is able to do so, which is why we've also been giving back to our clients and community with pro bono PR services during this trying time. And yet, we also know that if we're not at our best (okay, best is a bit much to strive for here… let's say, 60 to 70% as a goal?), we won't be able to make an impact and support others.
How are you restoring yourselves right now? What products are helping you be more efficient or effective? How are you adapting? And if you're struggling, know that you're not alone. Reach out to us, and we'll do our best to find a way to help.