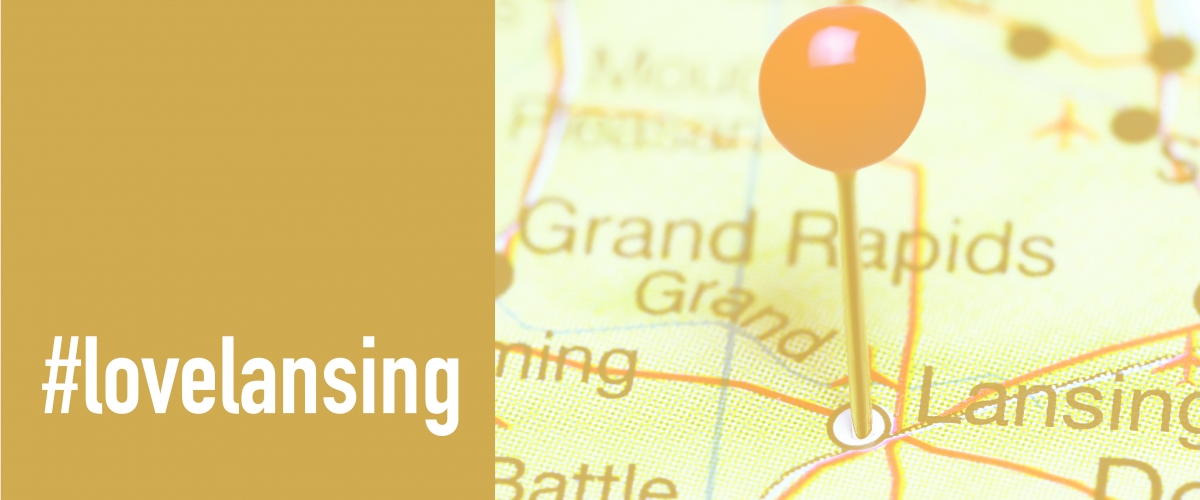 Our love language at P&G: Instagram stickers
Oct 8, 2020
Category: P&G culture
Several months ago as quarantine measures were in full force, P&G founder Kate Snyder was passing some time filling out a "hometown" questionnaire on Instagram. 
"A sticker that represents your hometown," it asked. As she typed "Lansing" into the sticker tab, Kate envisioned a cute Capitol building graphic, maybe a mitten with a heart-shape in the center, or at the very least, a #LoveLansing GIF. When the results popped up and showed nothing of the sort, she knew exactly what had to be done. 
The following Monday, Kate tasked several members of our creative team with developing a set of Lansing-themed GIFs for community members to use on the 'Gram.
And then the world got fucked. COVID got scarier. The president came after our Guv. People started debating whether or not Black lives should matter <spoiler alert: THIS IS NOT A DEBATE. BLACK LIVES MATTER. WTAF?!?!> and protesters took to the streets to stand up to injustice.
So a few spunky GIFs just didn't seem that important anymore. Our COVID-19 digital craft project was put on hold.
But as happens when we of privilege are in sustained periods of wading through shit, we DID have the luxury of being able to come back to these little ditties as an escape. Bit by bit, we added, modified, were inspired (#BigGretch), and we slowly amassed a little Lansing collection.
The more we played, the more some of us who don't normally design wanted to get in on the action. Our resident illustrator, Emma, who primarily works on social and other PR projects, got to get her sketch on. Creative directors Hilary and Lisa decided to get in on the game.
And we started to channel some hometown pride all Lanstronauts can embrace in between amplifying melanated voices and encouraging people to vote (seriously … please vote … PLEASE vote …).
So here are a few dancing ditties that will pop up when you're trying to show your love for Lansing ...
The cutest capital city in the nation.
Because you can't spell "Lansing" without QD.
#LansingFacts, we love you. <3
An ode to That woman from Michigan.
Our personal favorite Lansing neighborhood — home to our office!
A sticker for the one-and-only Mac's Bar.
And of course, the classics.
Now it's YOUR turn. Have you got skills? Or are you a hack with horrible taste? Cause that feels kinda Lansing-esque too.
No matter who you are, Piper & Gold challenges you to create some Lansing-themed stickers or GIFs for community members to use on their stories. Here's a quick tutorial on how to make stickers and get them to Instagram:
GIFs can be made using apps like Procreate or software like Adobe Photoshop. Here are links to tutorials on using both of these tools to create animated images: Procreate, Photoshop.

In order to create GIFs that appear on stories, you must apply for either an Artist or Brand account. To do so, first set up an account on https://giphy.com/.

Upload several GIFs to your channel and add hashtags. These will be used to review your account, so make sure they follow all Giphy guidelines!

Apply for an artist or brand channel. 

Once you've been approved, you're all set! You can continue uploading stickers to your channel and using them on stories. 

Show us your work! Tag @piperandgold when you share your Lansing GIFs for the first time. We'd love to see what you do. <3