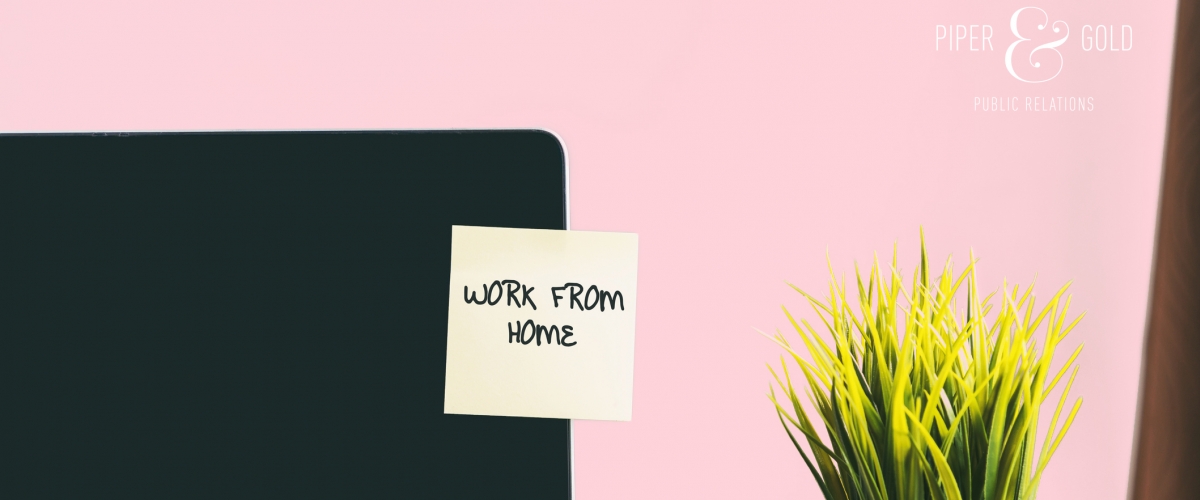 As most of you are all well aware, this week, Michigan's Governor Gretchen Whitmer signed the "Stay Home, Stay Safe" executive order in response to the rapidly evolving COVID-19 pandemic. 
Executive Order 2020-21 "prohibits all businesses and operations from requiring workers to leave their homes, unless those workers are necessary to sustain or protect life or to conduct minimum basic operations. Businesses and operations are to designate the workers that meet those criteria, and must adopt social distancing practices and other mitigation measures to protect workers and patrons in the performance of that necessary in-person work."
For those of us privileged enough to be able to work from home, including our Piper & Gold team, this won't change much of how we've been working and living for the past week and a half. 
The order does reinforce that "individuals who leave their home or place of residence must adhere to social distancing measures recommended by the Centers for Disease Control and Prevention" and that "no person or entity shall operate a business or conduct operations that require workers to leave their homes or places of residence except to the extent that those workers are necessary to sustain or protect life or to conduct minimum basic operations."
In short, if you're able, work from — and stay the fuck at  — home. Leave only to go to the pharmacy, grocery store or bank — and stay six feet apart! 
To those who can't stay home -- our medical professionals, first responders, bus drivers, grocery workers, Shipt shoppers, pharmacists, garbage truck drivers, cooks, postal workers, cleaners and everyone else keeping us healthy and fed -- thank you. We see you and the risk you put yourselves at to keep the rest of us functioning. Thank you, thank you, thank you.
And for the newly initiated into the world of WFH-ing, we decided to share some knowledge we've been stockpiling for the past few weeks. There is no shortage of content regarding the pandemic and how it impacts the workforce, and our team has been researching and compiling resources to keep track of it all. Here are some of the things we think are most relevant.
For businesses:  
The number one source we recommend for COVID-19 related information is the State of Michigan's COVID-19 dedicated website: michigan.gov/coronavirus. 
Here are a few additional resources as they relate specifically to managing your businesses at this time: 
Funding and capital: 
We know times are tough for businesses, so here are details on some different funding sources, if needed:
For remote workers:
For those who don't frequently work from home for more than a day at a time, a major shout-out to our wonderful friends and colleagues at Belle Communication. They specialize in restaurant and lifestyle PR and have a fully remote team, and they've shared their expertise in running a successful remote company. 
On their website, they run through:
The best virtual office tools like Slack, Zoom and Basecamp.
How to stay productive by time blocking and taking intentional breaks.
How to WFH with kids around — I'm taking notes for myself at this moment.
How to "keep the culture" and maintain that face-to-face time we all know and love.
As we all find our new normal, now more than ever seeing one another can be a huge factor in helping overcome social isolation and a feeling of disconnection. Here are some tools you can use to connect:
Google Hangouts/Zoom: Both Google Hangouts and Zoom allow for convenient video calling. Google Hangouts is free, but can be harder with bigger teams. Whereas Zoom has more features to congregate "meetings" and "conference rooms," a phone system and webinar capabilities, though the free version is limited.
Loom: Loom is a video messaging platform available to businesses connecting remotely. They are currently addressing the COVID-19 situation by offering free access.
TechSmith Snagit and TechSmith Video Review: TechSmith is offering screen recording tool, TechSmith Snagit, and asynchronous collaboration platform, TechSmith Video Review, for free through the end of June 2020 to any organization that needs it. These tools help create and record interactive training materials while providing opportunities for collaborative feedback and communication.
Connect online, stay safe and stay the fuck home!