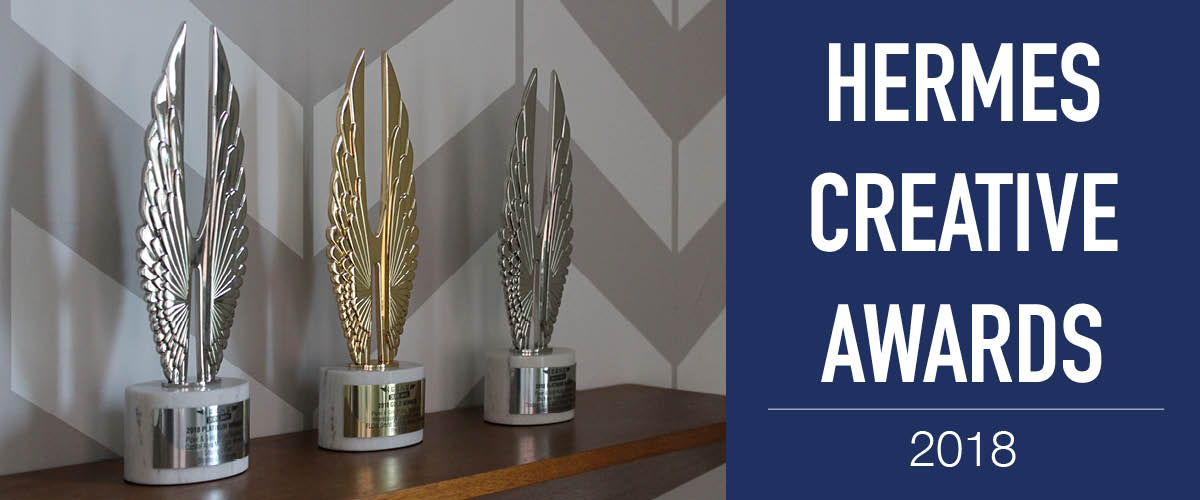 When you're a small agency in a medium-sized city, it's easy to get stuck in the mindset that your work is only ever noticed by your clients and community members.  
But then you open your mail to find a collection of shiny, modern, abstract pieces of "H"-shaped art with intricately carved wings, and you're reminded your work is not only acknowledged, but celebrated outside of your bubbles.   
The Hermes Creative Awards recognized P&G with nine honors for achievements in public relations. P&G was a part of the 17 percent of all submissions that won a platinum award, 22 percent that earned a gold award and 10 percent that received an honorable mention.  
The Hermes Creative Award is an international competition for creative professionals involved in the concept, writing and design of traditional and emerging media. They have been presenting awards for more than 20 years.  
There were more than 6,500 entries from throughout the United States, Canada and dozens of other countries in the 2018 competition. Entries were submitted by corporate marketing and communication departments, advertising agencies, PR firms, design shops, production companies and freelancers.  
Being recognized for PR on the international level reminds us here at P&G that we may be a small agency but we do BIG work. And we're proud of it.  
  P&G was recognized in the following categories:   
2018 Platinum Award Winner 
Client: Capital Area Michigan Works! 
Campaign: Strategic Plan, Strategic Programs 
Snapshot: For CAMW!'s 2017 annual report, which was released in conjunction with its new 2018-2021 Strategic Plan and its new visual brand, it was critical we emphasized the impact of CAMW!. The 2017 annual report became "By the Numbers," an infographic-style poster focused on the importance of CAMW!. 
2018 Platinum Award Winner 
Client: Michigan Apple Committee 
Campaign: Traditions, Fall 2017 Harvest Social Marketing Campaign 
Snapshot: The Michigan Apple Committee and P&G developed the Traditions social media campaign. To get more apples into more homes, Michigan apples were promoted throughout the 2017 harvest season, inspired by Michigan Apples' deep roots in tradition and in tribute to the history of the fruit. The combination of compelling visuals and resonating messaging increased engagement with and understanding of the Michigan Apple brand, and it contributed to an impressive increase in apple sales.  
2018 Gold Award Winner 
Client: Impression 5 Science Center 
Campaign: FLOW Grand Opening Media Event 
Snapshot: FLOW: A Water Experience was designed to allow families to explore the science of fluid dynamics with two stories of interactive components and activities. P&G was hired to produce more than just a grand opening media event; we were brought in to create an experience as unique as the exhibit itself for sponsors and visitors to the science center.  
2018 Gold Award Winner 
Client: Choice Network 
Campaign: Scary Mommy Editorial  
Snapshot: P&G collaborated with Choice Network to explain how the resources supporting families adopting outside the traditional closed-adoption-of-an-infant world are insufficient. The result was an editorial-style blog and guest column submission to Scary Mommy, a massive, vibrant online community of millions of parents, brought together by a common theme: Parenting doesn't have to be perfect.  
2018 Gold Award Winner 
Client: Choice Network 
Campaign: #NAM2017 
Snapshot: The goal of the Choice Network social media campaign wasn't only to raise awareness of adoption, but to raise awareness of Choice as a leader in adoption in Ohio and beyond. The theme of the campaign was to highlight that children are more than just numbers. We focused on telling the stories behind the numbers. 
2018 Gold Award Winner 
Client: P&G Blog 
Snapshot: Social media and blog style writing for our small PR agency. 
Honorable Mention Winner 
Client: REMC, the Regional Educational Media Center Association of Michigan 
Campaign: Classroom Makers 
Snapshot: P&G's integrated marketing campaign came in the form of a toolkit that gave teachers across the state access to tools that allowed them to create a vibrant, collaborative community of problem-solvers right in the classroom.  
Honorable Mention Winner 
Client: Capital Area Michigan Works! 
Campaign: Strategic Communication Plan 
Snapshot:  We used a three-part strategy to serve as the primary source of seamless and customer-oriented jobs and recruiting for our community. Strategy one was to increase and enhance services to highly educated, high-skill job seekers. Strategy two was to create an inclusive environment that encourages diversity in the people and businesses served. Strategy three was to increase the number of businesses working with Capital Area Michigan Works!  
Honorable Mention Winner 
Client: Capital Area Michigan Works! 
Campaign: Annual Report 
Snapshot: CAMW!'s 2017 Annual Report was released in conjunction with CAMW!'s new 2018-2021 Strategic Plan. We implemented a new visual brand and created an infographic-style poster to display The 2017 "By the Numbers" annual.  
Claire Barkholz
Student Strategist